Trump attorney Michael Cohen to testify before House Intelligence Committee in September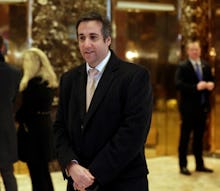 Michael Cohen, President Donald Trump's personal attorney and stalwart defender of many years, will testify before Congress this fall.
"I have previously stated that I am committed to complying with the subpoena by the House Permanent Select Intelligence Committee; including the request to testify on September 5th, 2017," Cohen told Mic in a prepared statement Tuesday.
Last month, Cohen acknowledged he'd been asked for information as part of the government's wide-ranging investigation of whether Russia sought to influence the outcome of the 2016 election. That probe includes questions about whether Russian agents and the Trump presidential campaign colluded in any way.
Cohen, who has worked with the Trump family for years, remains an unshakable presidential loyalist, including on social media.
In a May interview, Cohen slammed a Congressional request for information, which was similar to that made of other members of Trump's inner circle, as a "fishing expedition."
He also expressed chagrin at the time that his name had come to light, calling it "irresponsible and improper that the request sent to me was leaked by those working on the committee."
Previously, Cohen derided a lewd dossier compiled on Trump and other members of his inner circle, including Cohen himself, as utter trash.
Cohen confirmed his September appearance as the political world sat transfixed by the testimony of Attorney General Jeff Sessions to the Senate Intelligence Committee about Russian interference in the 2016 campaign.
Sessions, a Trump supporter who worked on the campaign before becoming head of the Justice Department, said he did not engage in any unlawful activities or collusion.
A spokesman for California Democratic Rep. Adam Schiff, ranking member of the House Intelligence Committee, declined Mic's request for comment.
June 13, 2017, 7:22 p.m.: This story has been updated.