Donald Trump suddenly thinks House Obamacare repeal bill is too "mean"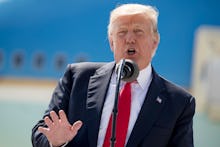 President Donald Trump has told Senate Republicans they have to pass a less "mean" version of the House's plan to repeal and replace the Affordable Care Act, saying they need to be "more generous," the Associated Press reported Tuesday.
According to Politico, Trump also said Republicans "risk getting savaged in the 2018 midterms" if they fail to repeal the ACA, which the GOP has campaigned against ever since the legislation became a priority for former President Barack Obama.
The president didn't stop there, either. CNN White House producer Elizabeth Landers said a source told the network Trump called the AHCA "a son of a bitch."
Confused at the sudden criticism from the West Wing? You're not alone.
Just weeks ago, Trump heartily endorsed the House version of the American Health Care Act, calling a press conference to publicly celebrate the bill's passage — despite the Congressional Budget Office's assertion it could cause 23 million people to lose insurance by the year 2026 and send premiums skyrocketing for millions of others. By the time the bill left the House, it had lurched even further to the right by way of provisions devastating pre-existing conditions mandated under the ACA, making it unlikely to garner enough support in the more moderate Senate.
According to Politico, the "terrible" media coverage of the bill — which has little support among voters, according to multiple polls and surveys — was one factor in the president's pivot.
June 13, 2017, 6:20 p.m. This story has been updated.