Jeff Sessions dodged major questions about Trump by citing a rule that doesn't apply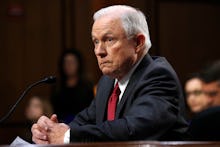 In a hearing before the Senate Intelligence Committee, Attorney General Jeff Sessions refused to answer questions about conversations he had with the president at least seven different times.
"I'm not able to comment on conversations with high officials within the White House," Sessions said early in the hearing, citing President Donald Trump's right to keep all conversations between himself and Sessions confidential.
There's just one problem: Trump never invoked that right, known as "executive privilege" — a fact that Sessions himself admitted several times throughout the course of the hearing.
"I'm not claiming executive privilege because that's the president's power and I have no power there," Sessions admitted to the committee's vice chairman, Sen. Mark Warner (D-Va.).
Sessions' dodges were similar to those of NSA Director Mike Rogers and Director of National Intelligence Dan Coats, both of whom refused to answer questions about conversations with the president in their testimonies last week.
Sessions told the senators on the committee that he was protecting the president's future right to invoke executive privilege, and that by not revealing conversations with the president, he was adhering to "long-standing policy."
But people familiar with presidential privacy laws disagree.
"As did the senior intelligence officials who testified last week, Sessions wants to have it both ways," Ned Price, former senior director at the National Security Council under Barack Obama, said in an email. "He clearly wants to protect the president by indicating he hasn't invoked executive privilege. At the same time, he has refused to answer key questions, citing the protection of that privilege should the president wish to invoke it going forward. That's not how it works."
In one heated exchange with Sen. Angus King (I-Maine), the senator pressed Sessions on his refusal to answer. "I don't understand how you can have it both ways," King said. "The president can't not assert it, and you've testified that only the president can assert it and yet I just don't understand the legal basis for your refusal to answer."
Throughout the hearing Sessions dodged questions on a panoply of topics using his dubious interpretation of executive privilege.
Did he discuss his decision to recuse himself from the investigation with Trump? No answer.
Has he discussed the possibility of pardoning anyone involved in the investigation with Trump? No answer.
While no one but Sessions can know his exact motivation for dodging the questions, most of the questions he ducked involved whether or not he had discussed the investigations into Russia and former national security adviser Michael Flynn, or their role in the decision to fire James Comey with the president.
Rogers and Coats avoided similar questions in their hearing, following reports that Trump personally asked both men to downplay the Russia investigation.
It's a tactic Price sees as a sign of misplaced priorities: "You can add Sessions to the growing list of officials in this administration who are protecting and defending the president, not the U.S. Constitution," he said.
But as the Senate continues to investigate Trump and Russia, it's not clear how long they'll be able to continue avoiding those questions without legal basis.