6 key takeaways from Jeff Sessions' Senate testimony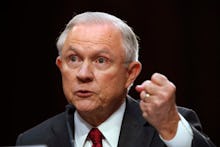 Attorney General Jeff Sessions was defensive during his hearing before the Senate Intelligence Committee on Tuesday. Sessions was adamant he — and the Trump campaign — had zero collusion with Russia. This special edition of Navigating Trump's America recaps Sessions' hearing and what comes next.
Sign up here to receive a daily email newsletter from Mic on President Donald Trump.
1. The attorney general gave conflicting answers about his reported meetings with the Russian ambassador.
The attorney general said he "did not have any private meetings, nor do I recall any conversations with any Russian officials" at an event for the president's first major speech on foreign policy last year at a Washington, D.C., hotel. During questioning, Sessions' tone grew shiftier.
Further, Sessions said he could not "recall" any meetings with Russian officials that have not been disclosed, nor did he have memory of conversations with other people tied to Russia.
This matters because Sessions, who was under oath, could later be grilled on this waffling by investigators running the Russia inquiry. Sessions seemingly acknowledged the need to give himself an out from that line of questioning, saying he cannot guarantee his recollection of events is correct.
2. Sessions said James Comey was fired because of how he handled the Hillary Clinton email investigation.
Sessions said Comey's decision to publicly recommend not seeking charges in the email investigation was a "breathtaking usurpation of the responsibility of the attorney general."
That doubled down on what Sessions put in his signed letter, but it contradicted Trump's comment after Comey's firing that the Russia investigation factored into the firing. Sessions said Tuesday that Trump's words speak for themselves and he could not discuss more than the letter.
The attorney general shared his belief that it did not violate his recusal from the Russia investigation to be involved in firing Comey, something Sen. Ron Wyden (D-Ore.) said did not "pass the smell test." The attorney general was adamant it was his job, despite the recusal, to choose the leadership of the FBI.
3. The attorney general emphatically denied he had any involvement in allegations related to Russia.
Perhaps Sessions' most sweeping statement came during his opening, when he said, "I have never met with or had any conversation with any Russians or any foreign officials concerning any type of interference with any campaign or election in the United States."
The attorney general added that he did not recall anyone trying to influence him in his role with the Trump campaign.
4. The attorney general would not comment on whether he talked to Trump about firing Comey and whether the Russia investigation was part of the conversation about the firing.
"I am not stonewalling," Sessions said in response to an accusation he was covering up conversations with the president.
Sessions repeatedly cited Justice Department regulations that he said bar him from discussing conversations he had with Trump. "I'm protecting the president's constitutional right," he said, by not discussing private conversations with Trump. "I think your silence speaks volumes," said Sen. Martin Heinrich (D-N.M.).
5. Sessions said he effectively recused himself from the Russia investigation the day after he was confirmed by the Senate.
Sessions said he has never had a briefing about the role of Russian interference in the U.S. election. The attorney general added that his recusal was made because of department regulations, not because he felt he could be a subject of the investigation.
"I recused myself that day," Sessions said of the day after he was confirmed. "I never received any information about the campaign."
6. The tone of the attorney general's testimony was noticeably defensive.
"This is a secret innuendo being leaked out there about me," Sessions said, raising his voice as he defended himself. Sessions called it an "appalling and detestable lie" to suggest he colluded with Russia to influence the 2016 election.
The attorney general criticized anyone suggesting he has ties to Russia, saying there is no evidence he or fellow Trump supporters colluded with Russia.
A note on Sessions' dodges:
Throughout the hearing, Sessions repeatedly dodged questions by claiming the president's right to executive privilege. There's just one problem: The president never invoked executive privilege, and the legal basis for Sessions' dodges is questionable.
Intelligence Committee Chair Richard Burr (R-N.C.) asked Sessions to work with the White House to identify which questions the attorney general refused to answer on Tuesday could be addressed later on, in writing.
So where does the Russia investigation stand now?
Sessions had little to say about the investigation into Russian influence on the 2016 election given his recusal from the inquiry. But there was news outside the hearing about the investigation.
After reports surfaced that Trump was considering firing special counsel Robert Mueller, the president did not answer questions from reporters on Tuesday about whether he was considering firing Mueller. Republican senators said that decision is not within Trump's jurisdiction. Watch this space.
Senators were not eager to speak with reporters after the hearing. Mic could only connect with Sen. Marco Rubio, who said Sessions was forthcoming and answered questions. Neither Burr nor Senate Intelligence Committee Vice Chairman Sen. Mark Warner (D-Va.) offered public comment, as they did following Comey's testimony. Journalists were told all other senators, and Sessions, had left the building within 30 minutes of the hearing wrapping.