Virginia Primaries: Ralph Northam fends off progressive Tom Perriello with double-digit lead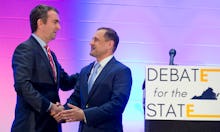 Insurgent Democrat and former Rep. Tom Perriello looked destined for a crushing primary loss against his opponent, Lt. Gov. Ralph S. Northam, in the Virginia state gubernatorial primaries on Tuesday night as the latter politician drew double-digit leads over Perriello with around 90% of the precincts in the state reporting.
Perriello conceded the race on Twitter around 8:46 p.m. Eastern, writing "Congratulations to @RalphNortham. Let's go win this thing — united. Let's take back the House and ensure VA remains a firewall against hate."
The race stood at Northam with 55.4% of the Democratic vote to Perriello's 44.6% at the 90% mark.
Perriello had the backing of a host of national progressive leaders including Sens. Bernie Sanders and Elizabeth Warren, though Northam's centrist bent and long career in Virginia politics won him the endorsement of papers like the Washington Post.
Touting Northam's "chances of success in the face of likely Republican control" of the state legislature, the Post called him a "shrewd politician whose decade in office — six years as a state senator, and now as lieutenant governor — has made him highly regarded in Richmond, including among Republican lawmakers, who tried to recruit him to switch parties in 2009."
As lieutenant governor under Gov. Terry McAuliffe, who has consistently boasted good poll numbers, Northam also had a considerable advantage in the race.
Perriello nonetheless drew major support from the Sanders wing of the party, and coverage of the race often cast it as a fight between the Democratic progressive and centrist wings. (Northam admitted to voting for former Pres. George W. Bush twice.)
"When Tom Perriello entered the race a few months ago, nobody expected a competitive race," Stephanie Taylor, co-founder of the Progressive Change Campaign Commitee and a senior adviser to Perriello, wrote to Mic in a statement. "The reason this race became so competitive in a few short months is that voters are increasingly hungry for visionary progressives who believe in challenging power — from systemic racism to corporate control of our democracy and economy."
On the Republican side, however, the race remained neck and neck well into Tuesday evening.
According to the New York Times, also at the 90% reporting mark, former Republican National Committee Chair and Bush staffer Ed Gillespie had 43.5% of the vote, while his pro-Trump, pro-Confederate opponent Corey Stewart was within grasping range of victory at 42.8%.