Is Mona really AD? 'Pretty Little Liars' season 7, episode 18 reveals new clues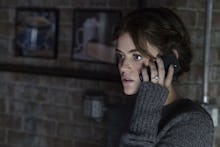 Pretty Little Liars is continuing to tease A.D.'s identity.
As we know from episode 17 of the Freeform series, Mona's been obsessing over the Liars and A.D. for awhile. She's got a bulletin board with clues and even the shovels that they used to bury Archer Dunhill. She looks really suspicious, but that doesn't mean she's the one that's been tormenting them.
Tuesday's episode sees the return of Detective Tanner — yes, the same detective that was out to get the Liars when they were in high school. Detective Furey took himself off of Dunhill's murder investigation and told Tanner everything about his relationship with Spencer. Needless to say, things are not looking good for the Liars.
But they have more problems than just Tanner. A.D. takes back the game and starts the clock on them. They have 35 hours to choose one person to take the fall for Dunhill's murder or they'll all go down.
None of the Liars are willing to throw each other under the bus — not even when Mona shows up to their Radley Hotel hideout with damning evidence on Aria.
It's not clear how Mona knew where Hanna, Spencer, Emily and Alison were hanging out, but she bursts into the room to lay out everything she knows about Aria. She even plays a recording of Aria on the phone with A.D.
That's not enough information for Spencer though, she needs more proof — so Mona gives them a location. Hanna, Spencer, Emily and Alison head to an old playground, and lo and behold there is Aria in a black hoodie.
Did Mona set up Aria? Or was she simply just listening to the call? The final moments of episode 18 hint that Mona might not really be A.D.
Caleb and Ezra use a cell phone tower to trace A.D.'s game back to Mona's apartment. It's there that Pretty Little Liars viewers see that Mona is inspecting the board. She's not the one behind it — but she's determined to find out who is.
Mic has ongoing Pretty Little Liars coverage. Check out our main Pretty Little Liars hub here.