'Hot Mic' podcast: Sessions' testimony, Uber's harassment policies, Megyn Kelly's divisive interview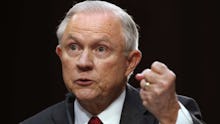 Listen and subscribe to the Hot Mic podcast from your mobile device:
Here are the important stories to get you caught up for Wednesday, June 14:
1. Attorney General Jeff Sessions testified before the Senate Intelligence Committee on Tuesday. Here are the six key takeaways from the nearly 3-hour hearing.
2. Uber CEO Travis Kalanick will go on leave as the company adopts new harassment policies.
3. An anti-gun organization dropped Megyn Kelly as the host of its event because of a controversial interview with far-right radio host Alex Jones scheduled for her Sunday night show.
Direct from Mic's newsroom, Hot Mic keeps listeners informed with a daily run-down of top stories, breaking news and analysis from our news team.