White House says Trump won't fire special counsel, but his own staff are nervous he will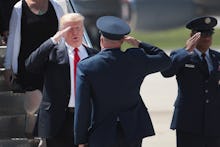 President Donald Trump will not be firing Robert Mueller, the Department of Justice special prosecutor appointed to investigate Russian interference in the 2016 elections and whether Trump's campaign was involved, White House spokeswoman Sarah Huckabee Sanders said on Tuesday night.
"While the president has every right to" terminate Mueller, Sanders told reporters, "he has no intention to do so."
However, a New York Times report on Tuesday indicated that Trump had at one point every intention of doing so, but had to be talked down by White House staffers who "tried to discourage him from something they believed would turn a bad situation into a catastrophe."
Terminating Mueller would be the second time Trump has fired a senior law enforcement official investigating the Russia issue — the first being FBI director James Comey — and would run the risk of sending an even more unambiguous signal the president is axing everyone closing in on a truth he would like to keep secret.
According to the Times report, Trump was "angered by reports in Breitbart News," and "other conservative news outlets" that Mueller was close to Comey. Trump viewed the issue as a "witch hunt," according to the Times.
More concerning was the source's allegation Trump "was pleased by the ambiguity of his position on Mr. Mueller, and thinks the possibility of being fired will focus the veteran prosecutor on delivering what the president desires most: a blanket public exoneration."
Issuing such a threat could constitute obstruction of justice by the president. If accurate, the report would also indicate Trump still has no understanding of the position the appointment of a special counsel has placed him in.
Critics clearly smell blood in the water.
"Does Trump think Mueller needs this paycheck to meet a car payment or something?" Felix Biederman, host of left-wing podcast Chapo Trap House, joked on Twitter. Hamilton Nolan, a reporter at Fusion, devoted an entire article to mockingly suggesting "Mister President? This clown over here, Mueller, thinks he can tell you what to do."