Meet Tracy K. Smith, the new US poet laureate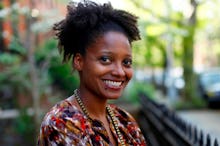 Tracy K. Smith, the 45-year-old Pulitzer Prize-winning poet, has been named the new United States poet laureate, the Library of Congress announced on Wednesday.
In a statement on Wednesday, Librarian of Congress Carla Hayden said that it gave her "great pleasure" to appoint Smith, "a poet of searching," to the position.
Hayden went on to praise Smith's work, saying that it "travels the world and takes on its voices; brings history and memory to life; calls on the power of literature as well as science, religion and pop culture."
Smith is the 22nd poet to hold the position, officially titled the "Poet Laureate Consultant in Poetry of the United States," NPR reported on Wednesday. She succeeds Juan Felipe Herrera, who has spent two yearlong terms as the poet laureate.
The official duties of the U.S. poet laureate are, as the Library of Congress said in the statement, to "raise the national consciousness to a greater appreciation of the reading and writing of poetry" — no small task, but the specific duties of the poet laureate are kept "to a minimum."
"I think the responsibility really is to just help raise the awareness of poetry and its value in our culture," Smith told NPR. "To me that means talking to people — getting off the usual path of literary festivals and university reading series and talking to people who might not even yet be readers of poetry."
Smith, who was born in Massachusetts and raised near an Air Force base in California, is the author of several collections of poetry as well as non-fiction work. Her 2011 collection, Life on Mars, won the Pulitzer Prize.
In a statement from the Library of Congress, Smith said that she was "profoundly honored" to accept the role. "As someone who has been sustained by poems and poets, I understand the powerful and necessary role poetry can play in sustaining a rich inner life and fostering a mindful, empathic and resourceful culture."