Shooting reported at Congressional Baseball Game practice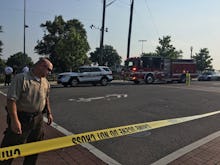 A gunman opened fire on members of Congress as they practiced for a charity baseball game at a field in Alexandria, Virginia, early Wednesday morning. House Majority Whip Steve Scalise was shot in the hip.
Scalise is out of surgery and in critical condition, according to CNN.
A total of five people were reportedly injured in the Wednesday morning shooting, including the gunman, Alexandria Police Chief Michael Brown told reporters, according to NBC Washington. In an address on Wednesday, President Donald Trump said that the shooter had died.
Brown said that officers at the scene exchanged gunfire with the suspect, according to NBC News. Two of the people injured were reportedly Capitol Police officers.
Rep. Mo Brooks (R-Ala.), who detailed the account of the shooting, told CNN that the shooter appeared to be a white male, Brooks told CNN.
Law enforcement officials have reportedly identified the suspect in the shooting as 66-year-old James T. Hodgkinson, a resident of Belleville, Illinois, the Washington Post reported on Wednesday.
One of those injured was a staffer in the office of Texas Congressman Roger Williams, his office said in a statement. In a tweet, the office of Congressman Williams identified the staffer who was shot as Zack Barth, a legislative correspondent.
Rep. Pete King (R-N.Y.) told Mic that Republicans "were practicing and that "someone was taking shots" at them.
King told Mic that he was hearing from colleagues on Capitol Hill that "Scalise was standing by second base when he got shot and he was able to crawl into the outfield."
According to King, Scalise has a "full-time security detail with him" because of his position as House majority whip.
"My first thought was this is the dangerous world that we live in," King said. King praised Scalise as a "great guy, very good guy."
A witness at the scene told Mic's Will Drabold that the first shots were fired around 7:14 a.m. Eastern.
Speaking to reporters on Wednesday, Brooks described a chaotic scene. He was about "80 or 90" feet from the shooter, and he "immediately" took cover behind the batting cage, he said.
The suspect was "in custody and not a threat," the Alexandria Police Department said in a tweet. Victims were reportedly being transported to local hospitals, according to Alexandria police.
In a statement, Scalise's office confirmed that Scalise had been shot in the hip and said that he was currently undergoing surgery. According to the statement from his office, just before going into surgery, Scalise was in "good spirits" and spoke to his wife on the phone.
Republican members had been practicing for the Congressional Baseball Game, an annual charity event hosted by Roll Call in which Republicans play against Democrats at Nationals Park. The game is scheduled for Thursday.
Democrats and Republicans practice at different fields.
Freshman Rep. Nanette Barragán (D-Calif.) tweeted that the Democrats were practicing at the same time and ended their practice.
"Dems join in prayer for our R colleagues and those hit," Barragán tweeted.
Republican members were tweeting prayers for Scalise.
In an official statement, Trump said that he and Vice President Mike Pence were "aware of the shooting in Virginia" and were monitoring developments.
In a tweet from his personal account, Trump said "Rep. Steve Scalise of Louisiana, a true friend and patriot, was badly injured but will fully recover. Our thoughts and prayers are with him."
House Majority Leader Kevin McCarthy (R-Calif.) announced on Wednesday that Scalise was out of surgery, the Washington Post reported. McCarthy praised the actions of the Capitol Hill Police who were at the scene, saying during a morning briefing that they were "amazing individuals."
"If you talk to the members who were there, they will tell you they went out into the fire to draw the fire," McCarthy said, according to the Post. "The shooter was moving toward the dugout where the members were and they were able to take him down."
The U.S. House of Representatives has reportedly canceled all legislative business for the day.
Former Arizona Congresswoman Gabby Giffords, herself the victim of 2011 shooting, tweeted a message of support, saying "My heart is with my former colleagues, their families and staff and the U.S. Capitol Police — public servants and heroes today and every day."
Celeste Katz, Will Drabold and Anna Swartz contributed to this report.
June 14, 2017, 11:50 a.m.: This story has been updated.