Reports: Beyoncé gives birth to twins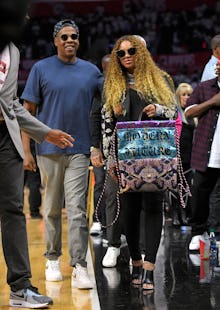 The Carter household just got a little bit bigger. Multiple sources have confirmed to Us Weekly, People and E! News that Beyoncé has given birth to twins. The newborns arrived earlier this week, according to Us Weekly's sources. That now makes three children for music's power couple, Beyoncé and Jay Z, whose oldest child, Blue Ivy, was born in January 2012.
Some fans went into baby-watch mode after they noticed Beyoncé stopped posting photos to her Instagram account on May 30. Fans speculated this was either a sign that the singer was getting closer to her delivery date, or that she already had the twins and was keeping the news a secret until she was ready.
Bey has been open with sharing her pregnancy since breaking the internet with an elaborate photo shoot in February. In May, she shared photos from an African-themed "Carter push party" celebration, which honored the couple and their impending new additions.
Yoncé also began scaling back performances in February, when she canceled her Coachella slot due to doctor's orders. She made her final appearance onstage at the Grammys, where she honored black motherhood during her set.
It is likely Beyoncé will now be taking some time off until further notice. The singer's next show is scheduled for April 2018, when she will make up her Coachella performance. Jay Z, on the other hand, seems to be getting back into music, and is rumored to be releasing a project called 4:44 before the year is out.
Mic has ongoing Beyoncé coverage. Please follow our main Beyoncé hub here.