'The Handmaid's Tale' Season 2: Everything we know so far about the new episodes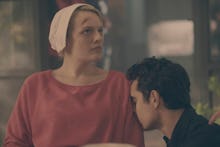 Season one of Hulu's critically acclaimed series The Handmaid's Tale comes to an end on Wednesday.
The series is based on the book of the same name by Margaret Atwood and revolves around the dystopian life of Gilead, the oppressive society that has become part of what was once the United States. The premiere in April was the most watched program ever on the streaming service, and was renewed for a second season just a week after its debut.
With season one coming to an end, fans want to know what will happen in season two and where the show will go next. Here's what we know so far about season two of The Handmaid's Tale.
The season two plot
Season one covered some of the plot from the book but it didn't include everything. For season two, showrunner Bruce Miller said they will continue to explore the world of Gilead from the book while including new and original storylines.
"Luckily there's lots to mine in the book, so even though we're in some ways moving beyond the book, we can stay true to Atwood's world and Atwood's tone, which we all love so much," he told Entertainment Weekly.
Miller also revealed that they are already know where season two will go:
Where we are is quite far down the road in terms of devising the next season's arcs, but I also think we're still waiting to put out a show and to see people's reactions to this season.
Atwood said she will be involved with where the storyline goes in season two. "I think it will be more involving in the second season because we will be in uncharted territories so more invention will have to take place," Atwood told Entertainment Weekly.
Returning cast members
Since we lost Janine, played by Madeline Brewer, in season one, it's safe to assume she won't be returning for the second season. It's uncertain who is returning for season two besides Elisabeth Moss and Alexis Bledel.
Bledel said she should be returning as Ofglen, but she's not sure what will happen to her character. "It sounds like I'm supposed to be in season two, but I don't know what happens to my character," Bledel told Entertainment Weekly.
Moss teased the second season to The Pool and said that things are about to get really dark in Gilead. "It's going to get worse, girl. Season two is going to be bad, too, really dark," she said. Uh-oh.
Premiere date
There is no official premiere date right now for the second season, but it is set to air sometime in 2018.
Mic has ongoing TV coverage. Please follow our main TV hub here.