'America's Got Talent' 2017: Watch 16- year-old Christian Guardino's Golden Buzzer moment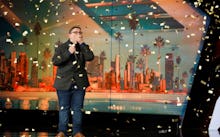 Never a show to go long without a jaw-dropping moment, America's Got Talent showcased yet another inspirational young singer, whose dazzling performance easily brought the audience to its feet — and earned himself the Golden Buzzer in the process.
A bit shy and nervous leading up to his performance, 16-year-old Christian Guardino, who was cured of blindness at age 12, was in his element from the moment he belted out the first lyric of The Jackson 5's "Who's Lovin' You." And Simon Cowell must have been at least a shade surprised, because he turned his head so quickly toward his fellow judges that it almost flung off.
Guardino's rendition of "Who's Lovin' You" rocked the crowd, with Howie Mendel appearing particularly moved, as he stood seemingly breathless with his hands over his chest. Following the performance, Guardino received a standing ovation, with Simon Cowell giving him two well-deserved thumbs up.
When it came time for Howie Mandel to speak, he asked Guardino, "If you could make one wish, right now, this second, to make something come true for yourself, what would you wish?"
The 16-year-old's response was simple: "Probably the Golden Buzzer."
"Well, your wish just came true," Mandel exclaimed before slamming his hand on the Golden Buzzer and sending gold confetti dropping from the rafters.
Watch Christian Guardino's incredible Golden Buzzer moment below:
Later, Mandel and host Tyra Banks congratulated Guardino on Twitter and expressed their shock over his stellar performance.
Guardino even got a shoutout from singer Mandy Harvey, who received the Golden Buzzer herself only days ago for her performance on America's Got Talent.
Of course, Guardino also tweeted his thanks to everyone for their support.
Mic has ongoing coverage of America's Got Talent. Please follow our main America's Got Talent hub here.