UVA frat named in retracted 'Rolling Stone' alleged sexual assault story reaches $1.65M settlement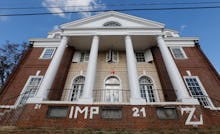 The University of Virginia chapter of the Phi Kappa Psi fraternity, which was at the center of Rolling Stone's retracted campus rape story, has agreed to drop its lawsuit against the magazine for a settlement of $1.65 million.
According to the Washington Post, the fraternity had originally sought a staggering $25 million after the magazine alleged that a student whom they called "Jackie" had been gang raped at the fraternity's house in 2012.
Among other findings that unraveled Rolling Stone's story, the Post discovered discrepancies that found the fraternity didn't host a party the night Jackie said, and that the student identified as her primary assailant hadn't been a member of the fraternity either.
Phi Kappa Psi claimed the story caused its current members and alumni "extreme damage to their reputations" in addition to subjecting members' families to "danger and immense stress," after online threats began rolling in. Many members even left the fraternity house in the article's aftermath, booking hotel rooms nearby.
The settlement comes just months after Rolling Stone's "confidential settlement" with UVA administrator Nicole Eramo, who oversaw campus sexual assault cases at the time the story broke.
Eramo filed her suit against the magazine shortly after the Post debunked many of the story's key details, claiming reporter Sabrina Rubin Erdely had defamed her, a crime for which she was found guilty in November. Eramo had requested $7.5 million in recompense.
Like Eramo, members of Phi Kappa Psi are eager to put the legal battle behind them. According to a statement from the fraternity's Alpha chapter, its members plan to use a "significant portion" of the settlement to fund sexual assault services, including education, training and counseling.
"It has been nearly three years since we and the entire University of Virginia community were shocked by the now infamous article," the statement read, "and we are pleased to be able to close the book on that trying ordeal and its aftermath."