The Dancing Pumpkin Man from 'America's Got Talent' is the most amusing thing you'll watch all day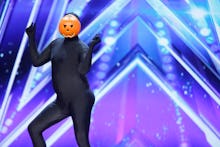 There have already been several moving performances on season 12 of America's Got Talent. The Dancing Pumpkin Man is not one of them, but that doesn't make him any less worthy of advancing in the competition.
The Dancing Pumpkin Man is a 42-year-old married man from Omaha, Nebraska, with two kids and a dog named Calvin. He may not seem extraordinary from that description, but then he told Simon Cowell about his life goal, or at least his goal in this competition.
"The goal is to spread the joy through the dance and ascend to a position at the front of the modern avant garde," the Pumpkin proudly told Cowell.
That fabulous response isn't the only reason he's a contestant to watch. He is actually the man behind the famous dancing pumpkin meme that took over the internet back in 2009.
The Pumpkin's performance on America's Got Talent was, naturally, hilarious, but it also showed off some genuinely good modern dance moves. While Callow nixed him almost immediately — after all, the Pumpkin did call him "Simes" — Mel B was totally won over. She even climbed onstage and refused to leave until Cowell agreed to advance the Pumpkin to the next round.
That's right, America. Thanks to Scary Spice, many more dancing pumpkin GIFs with much better resolution will likely be coming down the internet pipeline.
Here's a little background on how the man behind the pumpkin head achieved his famed status.
First of all, he may have told the judges his real name was Jack — aka Jack O' Lantern — but his actual name is Matt Geiler.
In October 2006, Geiler was anchoring a 10 p.m. newscast for the Omaha CW affiliate KXVO. Halloween was coming up, and the show was looking for something fun to help fill the Oct. 31 slot.
Geiler had a bold idea.
"Cue up the Ghostbusters song, and I'm going to jump into this black unitard and take up some time cutting these fresh dance moves," he recounted to the Omaha World Herald in 2016.
The station put the video on YouTube in 2006, but it didn't become a viral sensation until 2009. Today it's been viewed over 6 million times, and turned into a variety of GIFs and memes that usually become more plentiful around Halloween.
After his pumpkin-headed character achieved internet fame, Geiler moved his family to Los Angeles, and has been pursuing improvisational comedy and voiceover work ever since. He hasn't fully "made it" yet, but that may change now that he's made such a splash on America's Got Talent.
Mic has ongoing arts coverage. Please follow our main arts hub here.