Donald Trump changes his tune on health care as Senators continue to offer no timeline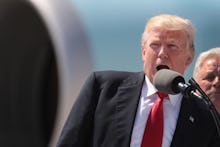 Note: We are currently on scene at the Alexandria, Virginia, baseball field where someone opened fire on members of Congress and aides during practice for the upcoming Congressional Baseball Game. Follow Mic's coverage here.
What We're Watching:
Today: We may be back to square one on health care.
The president changes his tune on health care
With all the attention on Jeff Sessions, you may have missed the news out of the president's Tuesday meeting with senators to discuss health care. President Donald Trump called the American Health Care Act "mean" and pressed senators to pass a "more generous" version, the Associated Press reported.
As Time noted, the president lauded the AHCA during a Rose Garden celebration after it was passed. "It's a great plan," he said at the time. That bill, of course, would lead to 23 million people losing health insurance over the next decade. (A more recent analysis of the bill released Tuesday puts that number at 13 million, but predicts bigger premium increases.)
Trump's comments come as senators continue to offer no timeline for their health care plan. "I think we're getting closer to draft legislation," Sen. Tim Scott (R-S.C.) told Mic on Tuesday after he emerged from a meeting Republican senators held with Vice President Mike Pence. When asked if a timeline had become more clear, he only said, "Nope." Sen. Susan Collins (R-Maine) told Mic, "It was an excellent discussion with the president but it's not as if decisions were made."
Reality: Congress has five full working weeks left until the August recess. The president's average weekly approval rating sits at 37%, the lowest of his presidency. Americans trust former FBI director James Comey substantially more than Trump.
Major lawsuit filed against Trump
196 Democratic members of Congress have filed a lawsuit against Trump. They allege he is in violation of the "emoluments" clause of the Constitution. Democrats say the income Trump's companies receive from foreign governments violates the Constitution. The White House has defended the president in the past by saying Trump has distanced himself from management of his companies and the clause applies to gifts or favors, not payment for services.
Your money and Washington
A recent Supreme Court decision says debtors cannot sue third parties, like a bank, if they own their debt and they are servicing it. That means if your debt is purchased by another lender, you have no recourse if you're experiencing abusive repayment practices.
The Treasury Department released a plan on Monday that would repeal key elements of Obama's consumer protection agenda, including gutting a financial watchdog.
ICYMI: Financial advisers will have to give retirees advice in the best financial interest of the client, not the bottom line for the adviser. Implementation of that Obama administration rule was delayed by Trump in April, but went into effect this month.
Trump will not fire Robert Mueller
The White House finally offered clarity: The president will not fire Special Counsel Robert Mueller. That came after a day of questions about whether the president would attempt to remove the lawyer digging into alleged Trump-Russia ties and Russian interference in the 2016 election. Firing Mueller was reportedly Trump's idea and one he had to be talked out of.
News and insight you cannot miss:
Experts told Mic the excuse Attorney General Jeff Sessions used to dodge questions on Tuesday was not valid. And mark your calendars: Longtime Trump attorney Michael Cohen will testify before the Senate Intelligence Committee on Sept. 5 — ensuring we can start the fall with yet more questions about Trump and Russia.
Less than a week after a win for progressives in the United Kingdom, a Bernie Sanders-backed gubernatorial candidate in Virginia lost to a centrist Democrat in the primary election.
During her questioning of Sessions, Sen. Kamala Harris was interrupted by her male colleagues, again.