Alleged Samsung Galaxy Note 8 leak teases rumored specs and features before release date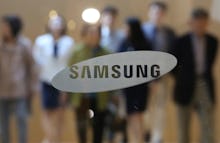 After the Galaxy S8, Samsung's next big release is the Galaxy Note 8 — the successor to the notorious Note 7, which was recalled last fall after its, er, explosive release and then later discontinued. Not much is known about the Note 8 aside from the fact that the phablet is returning. Now, thanks to an alleged leak, there's a preview of what the flagship handset may be like.
The photograph surfaced on Chinese social media site Weibo. It shows a smartphone with a curved screen that features a thin bezel measuring 6.7 mm. The purported image also suggests the Note 8 will come equipped a single-sensor camera and an iris scanner — the latter was first debuted in the Note 7 and is currently available on the S8.
A leak from earlier this week, reported by Slashleaks, supposedly shows what the back of the device will look like. Similar to Apple, its competitor, Samsung is working on embedding a fingerprint sensor within the screen of its smartphones. But that didn't work out for the S8, and the sensor was placed on the back of the device. As per the unofficial image of the rear of the Note 8, it shows a dual rear camera and no fingerprint sensor.
In light of the Note 7 recall and discontinuation, the fate of the line of smartphones was up in the air. In January, Samsung confirmed that it would be unveiling a Galaxy Note 8. "I will bring back a better, safer and very innovative Note 8," Samsung mobile chief D.J. Koh told CNet.
Since then, rumors have been circulating about what the device will be like. Most recently, speculation suggests there will be a vertically aligned dual camera featuring two 13 megapixel image sensors, a 6.3-inch or 6.4-inch display with QHD+ resolution and Snapdragon 835 or Exynos 9000-series processors depending on the market.
Learn everything about the upcoming Samsung Note 8. Find out about new features, specs and how the new phone will be safer than the previous iteration. You can also see how it stacks up against items like the iPhone 8 and the Galaxy S8.