Why do Louboutins have those red soles?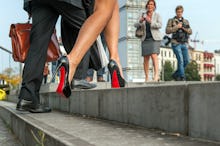 It all started with an Andy Warhol painting, according to a 2011 New Yorker profile of designer Christian Louboutin himself.
In 1993, Louboutin wanted to make a shoe inspired by the Andy Warhol painting "Flowers," a multi-colored print splattered with big, bright flowers. The prototype that he first saw was a pink stacked heel with a bright, cartoonish flower attached to it, but something wasn't popping.
The shoe needed more color. It needed pizzazz. It needed, it turns out, a pop of red.
In a fateful turn of events, a woman nearby was painting her nails bright red. In a split-second decision, Louboutin grabbed the polish and started painting the bottoms of the heels — which were black — a shiny, vibrant, glassy red.
"Then it popped," Louboutin told the New Yorker. That's when the shoe came together, and that's how the signature was born.
But why did Louboutin stick with that signature red sole for more than just this Warholian shoe? Despite a rumor that he was actually inspired by prostitutes in the past who allegedly walked through blood, Louboutin said that it was actually all about business, as he wanted to make sure that everyone knew when a shoe was and wasn't a Louboutin. It was also about landing on a color that goes hand-in-hand with a shoe as sexy as a stiletto.
"The shiny red color of the soles has no function other than to identify to the public that they are mine," Louboutin told a court in 2007 when he finally filed to trademark the design, according to the New Yorker. "I selected the color because it is engaging, flirtatious, memorable and the color of passion."
So it's part-business, part-sexual appeal.
For a shoe designer, it doesn't get more sensible than that.