Reports: Officials identify Alexandria shooting suspect as James T. Hodgkinson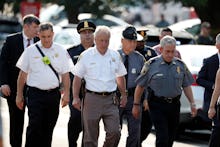 Law enforcement officials have identified the shooter who opened fire Wednesday morning on members of Congress as they practiced for a charity baseball game as James T. Hodgkinson, the Washington Post and NBC News reported.
According to the Post, Hodgkinson — a 66-year-old from Belleville, Illinois, who owns a home inspection business — was charged in 2006 with "battery and aiding damage to a motor vehicle." Online records obtained by the Post show that those charges were dismissed.
Though Facebook and Twitter accounts that seem to belong to a James T. Hodgkinson from Illinois are circulating on social media, it is not confirmed that either belongs to the suspect.
At a press conference following the shooting, Alexandria Police Chief Michael Brown told media that five people — apparently including the alleged shooter — were transported to local hospitals. According to a tweet from ABC 7 News shortly after, two of those receiving medical attention were in critical condition.
In a late morning speech, President Donald Trump said the suspect had died.
House Majority Whip Steve Scalise (R-La.) and a staffer for Rep. Roger Williams (R-Texas) are the first confirmed to be among the five injured. Sara Murray, a White House correspondent for CNN, tweeted that according to Sen. Jeff Flake (R-Ariz.), a female police officer was airlifted from the scene.
On its official Twitter account, the Alexandria Police Department assured the public that it had apprehended the suspect and nullified any potential threat to members of Congress and local residents.
In another tweet, Alexandria police said they would not immediately be releasing the identity of the suspect.
Multiple law enforcement officials confirmed to NBC that the suspect has no ties to the Islamic State group, al-Qaida or any other international terrorist group.
When no identifying information on the suspect was immediately offered by police, witnesses at the scene offered scant and sometimes conflicting information about whom they believed to be the gunman.
Rep. Jeff Duncan (R-S.C.), a member of Congress at the scene, told press he believed he'd spoken to the gunman before the shooting. According to Duncan, a man asked him whether the people practicing were Democrats or Republicans.
Kellyanne Conway, counselor to Trump, tweeted Duncan's account with the hashtag #BreakingNews.
Though some reports say the man to whom Duncan spoke was wearing running clothes, according to Flake's account of what happened, the gunman, a rifle-wielding white male in his 40s or 50s, was wearing a blue shirt and jeans, not athletic wear.
CBS News reported that another witness said the gunman was a Caucasian man with white facial hair in his 50s or 60s, which seems to track with the Post's report.