'Metroid Prime 4' Retro Studios: Developer not involved in new Samus game — here's why that matters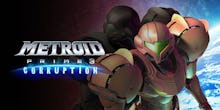 Nintendo made Metroid fans happy for the first time since the Bush years with the announcement of Metroid Prime 4 during its E3 2017 presentation Tuesday. However, the company didn't share any information about the game other than a logo. All we know is that it's coming to Switch at an undetermined point in the future.
Curiously, the logo for Metroid Prime trilogy developer Retro Studios was nowhere to be found. Thanks to Kotaku, now we know why.
Metroid Prime 4 developer: Retro Studios is not making the game
According to Kotaku, the game's fact sheet indicates it's being developed internally at Nintendo rather than at the Austin-based Retro Studios. Series producer Kensuke Tanabe is said to be leading a "talented new development team" on the project.
Nintendo, of course, didn't give a reason for the change. Retro hasn't released a game since 2014's Donkey Kong Country: Tropical Freeze. The company still exists and is presumably working on something, so it was reasonable to assume they would return to the series they helped create.
What does this mean for Metroid Prime 4? It's hard to say. There's been something of an exodus of talent at Retro since Metroid Prime 3 came out a decade ago. That's not to say the current staff is inferior (both of their Donkey Kong Country games were well-received), but some of the people responsible for Metroid Prime have moved on. A Retro-developed Metroid Prime 4 might come from a different place, creatively.
With Tanabe, it seems like this new internal team might have more concrete connections to the Metroid Prime trilogy than Retro in 2017. Whether this has a tangible effect on the game remains to be seen.
More news from Nintendo at E3 2017
Check out even more news from Nintendo's big E3 2017 presentation, including an exciting look at Super Mario Odyssey, new details about the Zelda: Breath of the Wild DLC and confirmation that Rocket League is coming to the Switch. Plus the latest on new Metroid and Kirby games on the way.