16 of the most highly anticipated summer 2017 album releases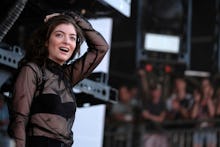 The first half of 2017 has already delivered several noteworthy albums, such as Ed Sheeran's Divide, Drake's More Life, Kendrick Lamar's Damn. and Harry Styles' self-titled debut. By now, music fans who have played these albums over and over are likely looking forward to what's arriving next. The good news is there's a long list of artists in various genres who will soon make their return to music in the coming months.
Several veteran acts like Jay Z will make a comeback, while younger musicians like Lorde will build on their early career milestones. Some of these titles may have major contenders for song of the summer or possess song lyrics that cause controversy and lead to discussions around social issues. As we await the hotter days ahead, here's a look at some of the sounds that will be heating up our speakers.
Friday
1. Big Boi, Boomiverse
It's been almost five years since Big Boi released Vicious Lies & Dangerous Rumors. He returns Friday with his third studio album Boomiverse, which will feature several big names such as Adam Levine, Snoop Dogg and Gucci Mane.
2. Lorde, Melodrama
Lorde took nearly four years off after her breakout album Pure Heroine, but the 20-year-old singer returns Friday with her sophomore effort Melodrama. Lorde told Time her latest music is "somewhere between top-of-the-class pop and something that steals your heart out of your chest."
3. Nickelback, Feed The Machine
Veteran pop-rock group Nickelback released its debut album, Curb, back in 1996, and Friday's Feed the Machine will be the latest addition to its lengthy catalogue. Check out Nickelback's latest single "Song on Fire" here.
4. Young Thug, Beautiful Thugger Girls
Young Thug has a thing for making provocative album covers. Jeffery, His 2016 debut, Jeffery, sparked a debate about queer appropriation when the artist appeared on the cover donning a periwinkle dress. On his upcoming Beautiful Thugger Girls, his body appears to be dismembered as he holds a guitar surrounded by broken mannequins.
June 23
5. DJ Khaled, Grateful
DJ Khaled makes his Grateful cover a family affair by featuring his son, Asahd, who wears a matching blue suit. The album will feature powerhouse artists Rihanna, Drake and Beyoncé, just to name a few.
6. Imagine Dragons, Evolve
Imagine Dragons' Evolve is the pop-rock band's third studio album and follow-up to 2015's Smoke and Mirrors. As band leader Dan Renyolds told ABC Radio, the record will showcase the band's "evolution." The band has also endeavored to deliver more messages of social equality at its recent live shows.
7. Vince Staples, Big Fish Theory
Rapper Vince Staples told LA Weekly his upcoming album Big Fish Theory — his follow-up to Summertime '06, his Def Jam debut album — will be his version of "afro-futurism."
June 30
8. Calvin Harris, Funk Wav Bounces Vol. 1
Producer Calvin Harris' newest project, Funk Wav Bounces Vol. 1, will feature Future, Young Thug, Ariana Grande, Pharrell Williams and more on his summer-friendly compilation.
9. TLC, TLC
Back in 2015, TLC successfully crowdfunded its eponymously titled album with the help of dedicated fans. In 2002, almost five months after the death of group member Left Eye, TLC released 3D — and nearly 15 years later, T-Boz and Chilli are back on the map.
July 7
10. Haim, Something To Tell You
Sister trio Haim have Something To Tell You, its sophomore album dropping just days after the Fourth of July. Since the group's debut Days Are Gone in 2013, the family band has toured with Taylor Swift and hung with Bono. — and are now ready to bring back more cheery rock grooves.
July 21
11. Foster the People, Sacred Hearts Club
Foster the People is ready to raise people's spirits with album Sacred Hearts Club. "I would look at the headlines in the news, and there was just something catastrophic that happened," frontman Mark Foster said in a video about the making of the album. "I really wanted to make something joyful."
12. Lana Del Rey, Lust For Life
Lana Del Rey will sing more stories about her fictional Hollyweird and plans to be a light in these dark times on her forthcoming Lust for Life. In addition to teaming up with The Weeknd for the title track, the singer has rolled out several other new songs in 2017, including "Love" and "Woodstock On My Mind."
July 28
13. Arcade Fire, Everything Now
Arcade Fire is taking over midsummer with Everything Now, the band's follow-up to 2013's Reflektor. Check out the visuals for its title track and its politically-driven "I Give You Power."
Sept. 15
14. Fall Out Boy, M A N I A
In April, Fall Out Boy announced its upcoming Mania, the band's ninth album after a 2015's American Beauty/American Psycho. Bassist and lyricist Pete Wentz told NME the album will be a "reaction to the climate of people" in President Donald Trump's America.
TBA
15. Jay Z, Untitled
Jay Z is rumored to be releasing his first album since 2013's Magna Carta: Holy Grail. On Instagram, producer Swizz Beatz confirmed he was working on new music with the rapper; reggae artist Damian Marley did the same in an interview with Billboard. There is no release date as of yet, but Jay Z has booked headliner spots at two music festivals this summer: Made in America and The Meadows Music and Arts Festival, so it's believed new music may be coming soon.
16. Nas, Untitled
Earlier in June, Nas told the New York Times he was close to finishing the follow-up to his 2012 album Life is Good. Though he didn't share a release date, he did say, "We coming this summer, baby! It's going to be a hot summer up here, man!"
Even if fans don't get a full album in the coming months, it's safe to say Nas wants them to hear at least one new song before summer comes to an end.
Mic has ongoing music coverage. Please follow our main music hub here.