It will be a busy two weeks before the current Supreme Court session ends. Here's what's coming.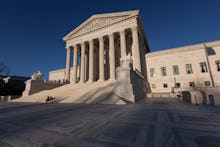 On June 26, the current session of the United States Supreme Court will come to an end — but before the judges can begin their summer recess, there's still plenty more to decide.
The final days of this term, which began in October 2016 and included the appointment of Neil Gorsuch to the bench, will include decisions in pending cases related to immigration, the first and fourth amendments, social media and more.
Here are some of the most wide-reaching cases that will be decided by the court within the next two weeks.
Cross-border deaths and victims' rights
Hernandez v. Mesa, which was argued before the court in February, concerns the cross-border shooting of Sergio Hernández, an unarmed Mexican 15-year-old, on Mexican soil by a U.S. Border Patrol agent on United States land. Hernandez's family is seeking legal recourse for the shooter, claiming he was protected under the Fourth Amendment. During the arguments, however, some of the judges argued that a ruling on cross-border violence could have broader implications, such as litigation for those killed in drone strikes.
Religious institutions and government funding
In Trinity Lutheran Church v. Comer, a Missouri church is fighting back against being excluded from a state program that grants funds for nonprofits, which were being sought to resurface the church's playgrounds. The court's ruling could have far-reaching consequences in terms of how funds are appropriated to religious institutions by state and local governments.
Social media access for registered sex offenders
A North Carolina law that prohibits registered sex offenders from accessing social media sites is being called into question in Packingham v. North Carolina, which was argued before the court in February. Under the North Carolina law, it is a felony for sex offenders to access sites on which minors are "known" to have accounts, such as Facebook and Twitter, which the defendant violated by celebrating a dismissed parking ticket on Facebook.
Trademark law vs. freedom of speech
Lee v. Tam considers whether a provision that says registered trademarks must not "[consist] of ... matter which may disparage ... persons, living or dead, institutions, beliefs or national symbols, or bring them into contempt or disrepute" is invalid under the free speech clause of the first amendment. The case concerns the Asian-American band The Slants, though the LA Times notes that if the provision remains valid, it could potentially lead the Washington Redskins football team to lose their trademark.
Immigrant detention and deportation
Documented immigrants will be impacted by the court's decision in Sessions v. Dimaya, which confronts the vague terms under which they can be deported. Under current immigration laws, immigrants can be removed from the U.S. if they commit "crimes of violence." That qualification is up for interpretation in this case, where the defendant was convicted in two non-violent burglary incidents.
Another immigration case, Maslenjak v. United States, considers whether immigrants who become U.S. citizens can be stripped of their citizenship for an "immaterial" false statement, as the defendant, a 53-year-old refugee from the former Yugoslavia, was when it was discovered she lied about her husband being in the military. During the arguments in April, some justices decried the broad power ruling against the defendant would give the government, who could then justify stripping citizenship from those who lie about childhood nicknames, driving above the speed limit or other trivial details.
The rights of undocumented immigrants are at the center of Jennings v. Rodriguez, which considers whether immigrants who are detained for at least six months should be guaranteed a bond hearing. The decision will also determine whether, when granted a hearing, immigrants should be released if not deemed to be a "flight risk" or "danger to the community." Though argued before the court in November 2016, the case has gained new urgency, as the Trump administration continues to ramp up the government's detention and deportation of undocumented immigrants.