What Melania Trump wore her 21st week as first lady — the week she finally moved to the White House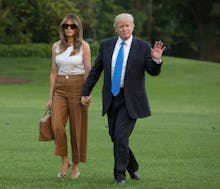 Melania Trump finally did it — she moved into the White House. On Sunday, Melania and her son, Barron, officially moved into 1600 Pennsylvania Avenue after months of living mainly in New York City after becoming first lady.
She marked the occasion with a tweet that read, "Looking forward to the memories we'll make in our new home," with the hashtag #MovingDay.
Of course with her now living full-time there, we are expecting to see more of her, maybe at speeches or events or White House parties even. Already this week, that's become apparent, with Melania making several mini appearances.
Here is what Melania Trump wore this week:
Sunday, June 11: A simple, neutral ensemble for moving day
While your moving outfit probably involves something like stained sweatpants and beat-up sneakers, Melania Trump's moving attire is this: a white Dolce & Gabbana tank top, wide-leg beige pants by Bally, python Manolo Blahnik heels and a matching Birkin bag that (no judgement here) goes for $13,000.
Also, for once, Barron upstaged Melania, wearing a rather curious T-shirt that read "The Expert" from J.Crew. Plenty of people had their thoughts on that.
Wednesday, June 14: a repeat outfit for a visit to the hospital
On Wednesday night, Melania and Donald Trump visited Sen. Steve Scalise (R-La.) at a hospital in Washington, D.C., for which Melania opted to wear what was reported to be an altered Michael Kors navy coat dress, which she's worn previously, to an Oval Office meeting with teachers.
As always, she's got that belt, which she's likely worn before too.
Thursday, June 15: a black Dolce & Gabbana outfit for a SCOTUS visit
On a special visit to the Supreme Court on Thursday, Trump wore a black vest by her favorite brand — Dolce & Gabbana — with a matching black skirt.
It's notable that this week D&G actually released a T-shirt that mocked the people who have vowed to boycott the brand since they've dressed Melania Trump so frequently as first lady. So maybe this is Melania's way of saying, "Thanks, guys." (But probably not.)
With all of these appearances alongside her husband in just her first week in the White House, this may be setting a precedent for the weeks and months and years to come: that Melania Trump will no longer be the invisible and wholly reluctant partner to this president.
You can see previous recaps of what Melania Trump wore here.