Is 'Famous in Love' renewed for season 2? Here's what we know so far.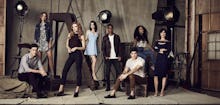 The first season of Freeform's Famous in Love came to an end on Tuesday and fans want to know if there is going to be a season two.
In Famous in Love, Bella Thorne plays Paige, a college student who lands her big break when she auditions to be part of an upcoming Hollywood blockbuster film. With her new life as an actress, Paige balances homework from school with the glamour and scandal of show business.
The season one finale ended on a cliffhanger as Barrett Hopper was shot by a mysterious person. Paige was also caught in a love triangle and the episode concluded before she was able to choose between Jake or Rainer.
Since there is no word on a renewal, Freeform executive Jennifer Gerstenblatt was asked at the ATX Television Festival in Austin, Texas, about the chances of the show returning for a second season. Gerstenblatt said the network is currently in talks and trying to make it happen.
"We love it too, and we're really trying and talking," she said.
Unfortunately, season one didn't exactly garner standout ratings. The show was one of the lowest rated series for Freeform for the network's 2016-2017 season and averaged about 339,000 viewers.
However, Freeform did release the entire first season on demand after the premiere for fans to binge watch. The show's creator, I. Marlene King, said fans have slowly found the show:
I'm finding that more and more people who have binged… are starting to watch it live with us because we were doing a lot of social media. Although we were nervous about it, it's exciting because a lot of people have already seen the show.
While the network has yet to confirm a second season, fans are hoping it happens:
Mic has ongoing TV coverage. Please follow our main TV hub here.