Scalise security may have prevented "massacre." Who are the Capitol Police and who do they protect?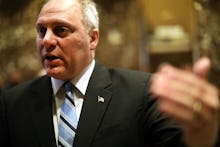 Without Rep. Steve Scalise's (R-LA) security detail present, the shooting at a Republican Congressional Baseball Game practice in Alexandria, Virginia, would have been a "massacre," Sen. Rand Paul (R-KY) said Wednesday.
Describing the United States Capitol Police as "real heroes," Paul — who witnessed the shooting that wounded Scalise — told ABC News that "everybody would have been killed."
"Steve Scalise is in leadership and that's the only reason there was security detail there at all," Paul told ABC News. "I'm sad that he was shot, but he actually saved everybody's life by being there because he had the two security details."
Representatives and Senators are protected by U.S. Capitol Police while in the Capitol building, but leadership in the two chambers — like House Majority Whip Scalise — receive full-time security details.
Other members of Congress may receive constant security detail in instances in which there is a threat against them, such as in 2014 when former Minnesota Republican Rep. Michele Bachmann was granted her own security detail after receiving an online threat from the Islamic State. But it is rare for Capitol Police to provide constant protection for regular members of Congress, Mark Strand, president of the nonprofit Congressional Institute, told the Christian Science Monitor at the time.
"If they decided that this was needed then they have some good reason for it," Strand said, explaining that the special detail indicated Capitol Police believed the threat against Bachmann was serious.
The Capitol Police was founded in 1828, under President John Quincy Adams. Back then, the squad was one captain and three officers who policed the Capitol building in 15-hour shifts during Congressional sessions and 10-hour shifts out of session. The force — and its jurisdiction — grew over the years, and after 9/11 swelled from 800 to 1,700 officers.
"Security was raised to an unprecedented level in order to protect the Capitol, the Congress and the national legislative process," former House Sergeant at Arms Bill Livingood told the House Administration Committee in a 2002 hearing.
Two Capitol Police officers were reportedly wounded in the shooting Wednesday.
According to Capitol Police Chief Matthew R. Verderosa, three special agents were present at the scene. One officer was shot in the ankle and is in good condition, Vederosa said in a statement. Another suffered a "minor injury" and was treated and released.
Former Rep. Gabrielle Giffords (D-Ariz.), who was shot and wounded in 2011, tweeted in support of the victims of Wednesday's shooting and described Capitol Police as "public servants and heroes."
June 14, 2017, 4:25 p.m. Eastern: This story has been updated.