'Anthem' Video Game News: 'Mass Effect' lead writer Drew Karpyshyn confirms work on BioWare title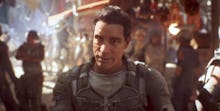 BioWare's new sci-fi multiplayer game Anthem made a major splash at Microsoft's E3 show — but it left some fans wondering whether BioWare was moving away from the story-driven writing that makes its games so strong.
Good news: Drew Karpyshyn, a lead writer on several beloved BioWare products — like Mass Effect, Mass Effect 2 and Knights of the Old Republic — just confirmed he's working on Anthem.
"So, Drew, is Anthem the new IP you are working at with @BioWare?" Twitter user Patricio Abusleme asked on Tuesday.
"Yes. Yes I am," Karpyshyn responded.
Anthem is still a long way off — BioWare's estimating a fall 2018 release date — and is still almost entirely shrouded in mystery. But for those of you worried about the quality of its writing, this might bring you a bit of comfort.
We'll have more on Anthem as BioWare continues pulling back the curtain.
More news from Microsoft E3 2017
Check out more of our coverage from the Microsoft E3 2017 press conference, including info on the new Xbox One X, Playerunknown's Battleground Xbox reveal, Forza Motorsports 7's gorgeous new trailer and the Metro Exodus announcement. BioWare's Anthem reveal definitely stole the show. But don't miss out on Sea of Thieves, State of Decay 2, Crackdown 3 and Tacoma, either.