Shooting at congressional baseball practice lays bare national divide on gun control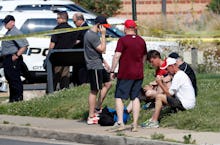 Until the gunshots rang out, tearing through flesh and glass, it was a quiet morning at Eugene Simpson Stadium Park.
With the annual Congressional Baseball Game just a day away, Republican lawmakers manned their bases and hefted their bats in the Washington, D.C., suburb of Alexandria, Virginia.
Soon enough, they'd return to suits, ties and the political maelstrom of the Capitol — but first, the red team would get in a little more practice for a charity showdown with the Democrats that has drawn cheering crowds for more than 100 years.
Or so they thought.
Instead, a rifleman descended upon the players who had planned to lay down their political cudgels for a good cause on Thursday.
The assailant, identified by authorities as James T. Hodgkinson, critically wounded House Majority Whip Steve Scalise and several others — but the damage didn't stop there.
In the hyperpartisan climate that has metastasized since the 2016 election, the Alexandria calamity morphed into a springboard for not only a fresh brawl about U.S. gun control, but a much bigger left-right blame game.
It was a battle that raged as lawmakers on the Hill tried to set a tone of bipartisanship, calling for an end to the divisive rhetoric that has driven Washington lately.
The Boston Globe reported that Rep. Steve King (R-Iowa) drove to the Virginia park from Washington with the intention of praying for his injured colleagues. Speaking to reporters at the scene, King said he didn't know anything about the gunman — but said did know "America is divided ... and the violence is appearing in the streets. And it's coming from the left."
King wasn't alone: Former House Speaker Newt Gingrich, during an appearance on Fox News, railed against a rising "hostility on the left" that he said was part and parcel of a culture that has made even violent hatred of President Donald Trump increasingly acceptable.
Even a rare joint appearance by Ryan and House Minority Leader Nancy Pelosi didn't fully quell the recriminations immediately launched by Americans on both sides of the political aisle — and both sides of the perpetual gun-regulation debate.
People such as Democratic National Committee member Khary Penebaker, for one, weren't having it. The former congressional hopeful tweeted back at GOP House Speaker Paul Ryan's calls for unity with his own calls for action to curb gun violence:
And Millennial Democrats Founder Kaivan Shroff called Trump out personally for having infused the language of politics with that of violence:
As the cross-currents of rhetoric swirled, even the first family itself sent mixed messages. In an emergency address from the White House, President Donald Trump urged unity and calm.
"Please take a moment today to cherish who you love and always remember those who keep us safe," Trump implored the nation.
While his wife, Melania, and older daughter, Ivanka, echoed those sentiments in brief statements of their own, Trump's eldest son, Donald Jr., characteristically let loose on Twitter, quoting and liking a series of posts that tried to bind Wednesday's attack to obscene mockery and theatrical disdain for the embattled president.
After the shooting, some said the tragedy in Virginia, which has somewhat looser firearms regulations than other states, was nothing short of the perfect time to revitalize a push for stricter gun control measures.
On the flip side, from the politicos to the populace, pro-gun pundits saw the catastrophe as unmistakable proof that good guys with guns stop bad guys with guns.
Sen. Rand Paul (R-Ky.) told reporters that it was the presence of an armed security detail that prevented the shooting from becoming "a massacre."
"Had they not been there it would have been a massacre, because there's no escaping a guy you know if he's got several hundred bullets and we had no weapons and no place to hide," he said. "So if he would have advanced on the rest of us there would have been no chance, the only chance we had was that the shots were returned by the Capitol Hill police."
At the scene of the shooting, Virginia Gov. Terry McAuliffe, a Democrat, said the answer was simply to "do more to protect all of our citizens. I have long advocated — this is not what today is about — but there are too many guns on the street."
McAuliffe's cautious remarks, which included a puzzling reference to some 93 million victims of gun violence per day, quickly earned him backlash on social media, both from for speaking out for gun control and for trying to "politicize" the shooting.
"You gotta be kidding me?" tweeted one user. "Gov. Terry McAuliffe brings up gun control after it was guns that SAVED PEOPLE'S LIVES!"
Adding yet more partisan fuel to the fire: Reports that the gunman had been a profound critic of the right and a supporter of former presidential hopeful Bernie Sanders who was said to have asked whether the ballplayers were Republicans or Democrats before opening fire.
Pleas to keep the day's thoughts on the injured and the heroic struggled to gain traction, and, per reports, even erupted into direct threats.
The ballpark gunman died after being shot by police, Trump said in his address to the country.
The havoc he wrought, of course, lingers on, with opposing political forces still locked in a struggle over party primacy — and a nation's direction on curtailing, or defending, its citizens' right to guns.
Jack Buehrer and Will Drabold contributed reporting.