Two men plead guilty in connection to shooting of protesters at Jamar Clark rally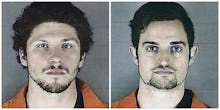 The two men with 25-year-old Allen "Lance" Scarsella the night he shot and wounded five Black Lives Matter protesters in November 2015 have pleaded guilty for their participation. Prosecutors will seek jail time for both.
Nathan Wayne Gustavsson, 23, pleaded guilty to second-degree riot and aiding an offender, and Joseph Martin Backman, 28, pleaded guilty to a gross misdemeanor charge of aiding an offender, the Root reported. Since Gustavsson was actually present during the shooting, the Hennepin County attorney's office seeks a sentence of six to eight months in jail and 10 years of probation, according to the Minnesota Star Tribune. Backman, who left before any shots were fired, faces two years of probation and up to 90 days in jail.
The incident, for which Scarsella was sentenced 15 years in prison, happened outside of the Minneapolis Fourth Precinct Police Station. On Nov. 23, 2015, Scarsella, Gustavsson and Backman got into an argument with demonstrators protesting the police killing of Jamar Clark, a black man shot in the head by Minneapolis police. The officers involved, Mark Ringgenberg and Dustin Schwarze, were not charged.
According to the Star Tribune, Gustavsson sent a text to Scarsella saying he knew "how to make big news or get [the protesters] to disperse." The two returned in masks and Scarsella opened fire on eight of the protesters, wounding five. Gustavsson wrote in a text message to Scarsella the night after the shooting, "We're all guilty in this."
In February, Scarsella faced 12 charges of first-degree assault and one count of riot. His defense argued that he was unaware of issues within the black community in Minnesota, and because he was 22 at the time, "his brain may not have fully developed." The judge and jury, however, did not agree. They found him guilty of all charges.
Sentencing for Gustavsson and Backman is planned for July 19.