'Metroid: Samus Returns' Special Edition: 3DS release date, price, pre-order and everything else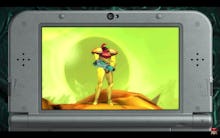 One of the biggest surprises at E3 this year has been the announcement of a new Metroid game coming to Switch. In addition to that, Nintendo announced that Metroid: Samus Returns will be coming this fall to the 3DS family.
This year is going to be a one big for Samus as she makes her return to the gaming world, and what better way to celebrate than with a special edition of the new game?
Metroid: Samus Returns Special Edition: Here's what you need to know
If you're interested in getting the new 3DS game, GameStop currently has it up for pre-order for $49.99. According to the GameStop website, this includes "a physical copy of the game, a sound-selection CD featuring 25 tracks from across the Metroid franchise and a reversible title-sheet insert for the game case."
If you're going for the whole collectible set, you might want to look at the new amiibo that are also coming out for Metroid. The game will be released on Sept. 15, 2017.
More news from Nintendo at E3 2017
Check out even more news from Nintendo's big E3 2017 presentation, including an exciting look at Super Mario Odyssey, new details about the Zelda: Breath of the Wild DLC and confirmation that Rocket League is coming to the Switch. Plus the latest on new Metroid and Kirby games on the way.