In wake of Alexandria shooting, here's what's happening on Capitol Hill today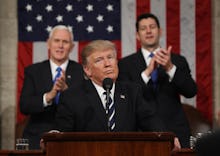 A shooting involving several members of Congress Wednesday morning in Alexandria, Virginia, has shifted the day's agenda in Washington, D.C.
Here's how the schedule on Capitol Hill is changing in response to the incident.
Trump cancels Labor Department speech
President Donald Trump will no longer deliver a speech that was scheduled at the Labor Department, Wednesday at 3:30 p.m. At the address, Trump was expected to present a new plan to lessen oversight of government-funded apprenticeship programs, as well as sign an executive order regarding the new policy.
The speech has not yet been rescheduled.
Pence cancels speech to the Homebuilders' Association
Vice President Mike Pence canceled a speech to the National Association of Homebuilders, scheduled for Wednesday morning at the Washington Marriott Wardman Park Hotel.
Instead, Pence plans to report directly to the White House, vice presidential press secretary Marc Lotter tweeted.
Congressional votes canceled
Both of the House's scheduled voting periods are canceled for the day, as well as the morning floor speeches. The Hill reported that the votes will likely be rescheduled for Thursday.
The Senate has not yet announced plans to postpone votes.
Senate Appropriations Committee reschedules testimony
The Senate Appropriations Committee will reschedule testimony from Defense Secretary James Mattis and chairman of the Joint Chiefs of Staff, Gen. Joseph Dunford. Mattis and Dunford were expected to review Trump's budget for the Department of Defense.
Press conference on emoluments lawsuit postponed
A scheduled press conference by Sen. Richard Blumenthal (D-Conn.) and Rep. John Conyers (D-Mich.) has been postponed. The senators planned to announce a lawsuit against Trump regarding his potential violation of the Constitution's foreign emoluments clause, due to the president's business interests.