The 3 best 'Game of Thrones' Reddit theories that could become reality in season 7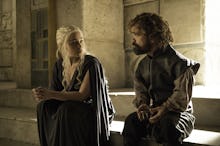 After what felt like an extremely long winter, Game of Thrones will finally return for its seventh season July 16. As the premiere date approaches, fans are starting to get a better idea of what may transpire in the series' next season, thanks to trailers, official photos and even a behind-the-scenes featurette that probably wasn't supposed to be all that revealing.
For the most part, official promotional material released by HBO doesn't contain too many spoilers. That makes sense, since the network isn't in the business of spoiling its own shows. Of course, Game of Thrones fans looking for juicy theories and potential spoilers know exactly where they can find them by now: Reddit.
Since before the series premiered, fans have taken to Reddit to lay out their best theories and predictions for what will happen on the show and in George R.R. Martin's books. And much like with Westworld, several of these theories have turned out to be correct — the most significant probably being Jon Snow's true parentage.
With Game of Thrones still ongoing, these theories haven't slowed down one bit. Here are three theories about what could potentially happen in season seven.
1. Tyrion Lannister is really a Targaryen.
This is a theory that should definitely not be discounted. After all, when the internet theorizes a Game of Thrones character is really a Targaryen, it often becomes reality. Tyrion being a Targaryen, rather than a Lannister, isn't that far-fetched of a prediction. In fact, there seems to be a good amount of evidence in both the television series and books to support such speculation.
So, why do some fans believe Tyrion isn't Tywin Lannister's son? Well, there are quite a few reasons. One of the largest clues comes from Tywin's absolute disdain for Tyrion. While this seems to be a result of Tyrion's mother dying in childbirth, it could be Tywin hates his youngest son because he's the result of an affair between Joanna Lannister and Aerys Targaryen.
Further evidence of Tyrion's potential Targaryen parentage comes from his appearance — especially as described by Martin in the books. In Martin's novels, Tyrion's eye color doesn't match Jaime and Cersei's, and his pale hair seems to be more aligned with what is commonly associated with Targaryens.
Then there's Tyrion's love of dragons. From a young age, Tyrion was obsessed with the dragons — like most Targaryens — and in Game of Thrones' sixth season, he seems to develop a bit of a rapport with two of Daenerys' chained dragons. It's possible Tyrion survived the encounter because of his Targaryen blood. Perhaps this is why Daenerys trusts him so much — if this theory pans out, the two would actually be siblings.
2. Jaime is going to kill Cersei.
Game of Thrones took an explosive turn in season six when Cersei found herself atop the Iron Throne as queen of the Seven Kingdoms. In the finale, Cersei destroyed a large portion of her enemies with wildfire, leading her son, King Tommen — whose wife, Margaery Tyrell, was killed in the attack — to take his own life. Now that Cersei is queen, the real question is: Who will kill her? This theory suggests it will be none other than Jaime Lannister, her twin brother, lover and father of her deceased children.
Cersei's eventual killer is heavily hinted at in the books, thanks to a prophecy from Maggy the Frog. The final part of that prophecy is: "When your tears have drowned you, the valonquar shall wrap his hands about your pale white throat and choke the life from you." Should this last part of the prophecy come true, it would appear Cersei will eventually be killed by either Jaime or Tyrion, since "valonquar" means "little brother" in High Valyrian.
The most answer would be that Tyrion — if he is indeed Cersei's brother — will be the one to eventually kill Cersei. After all, they pretty much hate each other. Jaime and Cersei, on the other hand, have always been in love. But Jaime seemed to be absolutely shocked by Cersei's actions in the season six finale, so perhaps he is finally fed up with his sister's destructive nature.
3. Arya is going to kill Littlefinger.
Out of all the characters to survive on Game of Thrones so far, Petyr Baelish, aka Littlefinger, may be the most surprising case. But he may not live much longer, according to this Reddit theory. It's fair to assume the scheming Littlefinger will eventually have to be written out of the show to make room for the converging storylines between the Starks, Lannisters and Targaryens — not to mention the White Walkers.
Should Littlefinger be killed, it would certainly make sense that one of the Stark daughters would have the honor. While Sansa may have more reason now that she knows Baelish has an eye on the Iron Throne, this theory has us believing Arya will be the one to put Littlefinger out of his misery.
The hypothesis goes like this: Arya will discover Baelish is conspiring to take down Jon Snow, a necessity in his quest to rule over the Seven Kingdoms, and will kill him before he gets a chance. This could even happen after she learns Littlefinger played a large role in her father's beheading back in season one, giving her more incentive to deploy her training with the Faceless Men.
This theory seems even more likely after Entertainment Weekly reunited the Starks in a photo shoot that appeared to include Arya holding Baelish's dagger. Reddit users quickly jumped on it, suggesting she simultaneously took both the dagger and his life. It looks like Arya may soon be adding another name to her kill list — and quickly crossing it off.
Game of Thrones returns on HBO at 9 p.m. Eastern July 16.
Mic has ongoing coverage of Game of Thrones. Please follow our main Game of Thrones hub here.