Trump resistance group puts out call for support of Alexandria shooting victim Rep. Steve Scalise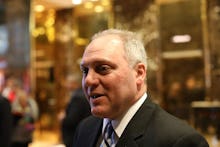 After the horrific shooting at a baseball field in Alexandria, Virginia, that left House Majority Whip Steve Scalise (R-La.) and four others injured, the call for politics to be pushed aside has been getting louder.
And for the activists from Scalise's home state organizing to resist Trump and Congressional Republicans' agenda, those calls have been heard.
Metairie Indivisible, a local chapter of the grassroots resistance movement Indivisible, quickly put out a call to action to their supporters urging them to send their support to Scalise and his family.
In a series of emails, Metairie Indivisible lead organizer Lara Crigger called on supporters to tweet their thoughts of concern to Scalise and send get-well cards to his offices.
"This attack is despicable and horrific beyond words," Crigger wrote in one of the emails. "Indivisible and the Resistance are peaceful movements, of peaceful people. We condemn this attack, and are thankful for the first responders, police and even other members of Congress for what they did to keep everyone as safe as possible during this terrible situation."
Scalise, a number of aides and members of his security detail were shot early Wednesday morning while practicing with the Republican team for Thursday's annual Congressional Baseball Game. Police have identified 66-year-old Illinois resident James T. Hodgkinson as the shooter. Hodgkinson reportedly died of injuries resulting from a shootout with Capitol Police.
Crigger said in an interview that she is personally saddened by the news and hopes Scalise has a speedy recovery. "Many of us don't agree with Rep. Scalise on many issues," Crigger said. "But that doesn't matter right now. He's our congressman. I'm devastated. A lot of people in our group are devastated."
Metairie Indivisible plans to set up a charity fund for Scalise on the crowdfunding site YouCaring.com and donate the funds to the Boys and Girls Club of Greater Washington, the organization the Congressional Baseball Game raises money for.
"Our hearts go out the the congressman, his family and his staffers," Crigger said. "We're all thinking of all of them."