The brilliant way 'Broad City' is handling the Trump era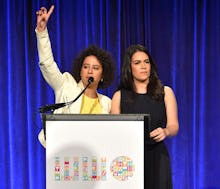 Broad City's creators and stars, Ilana Glazer and Abbi Jacobson, don't often shy away from controversial subjects like the tampon tax or the ins and outs of casual sex. So it might seem strange that they've chosen to bleep out President Donald Trump's name every time it's uttered in the upcoming season.
Then again, their decision to censor Trump's name on Broad City is directly in line with many who disapprove of the 45th president, refusing to say his name. It's a way of rejecting him as a legitimate president — which Glazer and Jacobson, both outspoken fans of Hillary Clinton, obviously feel he is not.
But they're actually taking their disapproval a step further by bleeping out his name as if it were a curse word.
"There's no airtime for this orange (person)," Glazer told USA Today. "We bleep his name the whole season."
Like so many shows that had to be rewritten to reflect the unexpected election results, the bleeping was just one part of how Glazer and Jacobson adapted season four of Broad City.
For example, one episode explores how Glazer is a witch, because a witch is "just a woman who's in touch with her womanhood" — speaking to how women have felt targeted by the Trump agenda simply for being women.
"Ilana's 'powers' are decreasing during the current administration because it's just so hard to (orgasm) when you know so many people are in such danger," Glazer told USA Today.
It may sound funny, but, like so many concepts explored on their show, it hits an uncomfortable nail right on the head.
Season four of Broad City premieres Aug. 23 at 10:30 p.m. Eastern on Comedy Central.
Check out the season four trailer below.
Mic has ongoing Broad City coverage. Follow our main Broad City hub here.