Why the Grammys voting changes are kind of a big deal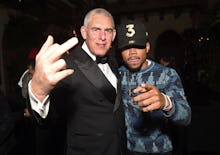 Every year at the Grammys the music is different, but the story is the same. Year-in, year-out the artist with the most cutting edge, critically-beloved album has had to sit and watch the biggest awards of the night go to albums that are safer, more marketable or more reminiscent of music industry golden ages long past.
There are plenty of examples throughout history: In February, Adele beat Beyoncé's genre-defining Lemonade, later conceding that Queen B should have won. In 2016, Taylor Swift beat Kendrick Lamar's To Pimp a Butterfly, which still holds a nearly perfect Metascore and album of the year aggregate scores. A 1992 recording of Jesus Christ Superstar received a nomination at the 1973 ceremony over Marvin Gaye's What's Going On, now considered one of the most important albums of all time.
But the Grammys want to change. Wednesday they announced a pretty major overhaul to their voting process, with the most significant updates coming in the album of the year and rap categories. They'll be moving to an online voting system, which may not sound like an incredible sexy change, but it may open up the field for a much wider variety of albums to find recognition.
Before Wednesday, the Grammy voters have had to submit their choices via paper ballots, a time-consuming process, according to an overview of the process penned by Jon Caramanica of the New York Times. "Generally the voters with the most time and energy invested in voting will be the ones with the least time and energy invested in current music making," Caramanica wrote.
This creates a skewed view of what connotes musical quality in a given year, resulting in older Grammy voters determining what constitutes musical excellence today. Moving the process online will hopefully make it far easier for touring artists, in-demand producers and other fast-moving tastemakers to get their votes submitted by deadline.
Additionally, the Grammy voting academy will be adding nominations review committees to the contemporary instrumental, New Age and rap categories. This review bodies will offer "an additional layer of checks and balances" according to the Associated Press. Some dedicated oversight could potentially prevent an album like Macklemore and Ryan Lewis' pop-nodding The Heist from beating out young classics like Kendrick Lamar's Good Kid M.A.A.D. City, an album that will likely prove tremendously significant in hip-hop history.
The Grammy's traditional bread and butter categories — rock, R&B and country — already have these committees. It seems the Grammys are finally ready to treat rap as an art form worthy of nuanced cultural critique. About time too, since hip-hop was the most streamed musical genre in 2016, and is where the most groundbreaking music of 2017 — Migos' Culture, Drake's More Life, Kendrick Lamar's Damn — has come from thus far.
Welcome to the future, Grammy Awards, don't let the people down next year.
Mic has ongoing music coverage. Follow our main music hub here.