'Super Mario Odyssey' Song Lyrics: You can hear Pauline sing the jazzy new tune on YouTube right now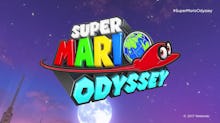 Nintendo released a brand-new trailer for Super Mario Odyssey during its livestreamed presentation at this year's E3 — and it's absolutely bonkers.
Not only can Mario's hat, Cappy, possess full-grown dinosaurs, but throughout the trailer, a woman — New Donk City's mayor, Pauline — sings a jazzy, roaring '20s-style song about the game.
It's ridiculous, but in that pitch-perfect way Nintendo fans love.
Super Mario Odyssey theme song
Luckily, Nintendo played a clean, uninterrupted version of the song during its Nintendo Treehouse livestream following the press conference, so several fans recorded it and uploaded it to YouTube for your listening pleasure.
More news from Nintendo E3 2017
Check out even more news from Nintendo's big E3 2017 presentation, including an exciting look at Super Mario Odyssey, new details about the Zelda: Breath of the Wild DLC and confirmation that Rocket League is coming to the Switch. Plus the latest on new Metroid and Kirby games on the way.