Donald Trump calls for unity in the wake of congressional shooting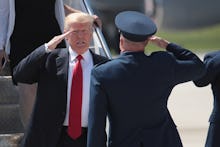 President Donald Trump called for unity in the wake of a shooting Wednesday morning that left a member of Congress as well as a handful of staffers shot, saying that while "we may have our differences... we do well in times like these to remember that everyone who serves... is here because above all they love our country."
Trump made the comments from the White House Wednesday morning shortly after the shooting.
He confirmed that the shooter, identified as James T. Hodgkinson, has died. And he called for prayers for House Majority Whip Steve Scalise of Louisiana, who had surgery after being shot in the hip but is expected to be OK.
"He's a patriot and a fighter," Trump said of Scalise. "He will recover from this assault."
Trump also praised the first responders who attended to the scene, and asked the country to keep each other in their thoughts.
"Please take a moment today to cherish who you love and always remember those who keep us safe," Trump said.