Source: Thursday's Congressional Baseball Game will still be played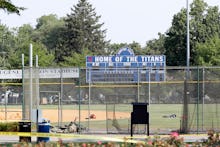 The Congressional Baseball Game will still be played Thursday despite Wednesday's shooting, a Hill chief of staff told Mic.
The shooting, which took place during a baseball practice session, left five members of Congress injured and the suspected gunman dead.
As Republican members of Congress practiced for a charity baseball game early Wednesday morning at a field in Alexandria, Virginia, a lone shooter opened fire, striking House Majority Whip Steve Scalise in the hip.
Law enforcement officials later identified the suspect as 66-year-old James T. Hodgkinson, a resident of Belleville, Illinois. In remarks delivered Wednesday, President Donald Trump confirmed Hodgkinson had died.
According to a report from NBC's Andrea Mitchell, House members cheered after learning the charity baseball game would be played as scheduled.
"The #congressionalbaseballgame is on. We will play for charity, but also for the victims & the heroic officers who took down the shooter," Rep. Eric Swalwell (D-Calif.) tweeted on Wednesday.
Sen. Rand Paul (R-Ky.), who was present for the practice session at Eugene Simpson Stadium Park, told NBC News that Capitol Hill police present at the scene as Scalise's security detail likely prevented a "massacre."
"Had they not been there it would have been a massacre, because there's no escaping a guy, you know, if he's got several hundred bullets and we had no weapons and no place to hide," Paul said.