London Grenfell Tower fire: Muslims preparing for Ramadan fast reportedly saved lives from fire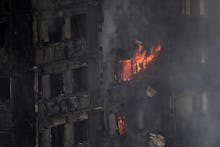 "Thank God for Ramadan." Those are the words from a witness who told reporters that Muslim boys knocked on the doors of neighbors to warn them that Grenfell Tower, a residential building in West London, was on fire.
"Muslim boys saved people's lives," the unidentified woman told HuffPost UK. "They ran around knocking on people's doors. Thank God for Ramadan."
The fire on Wednesday morning was deadly, killing at least 12 people and leaving about 18 in critical care and 79 others seeking treatment at five different hospitals. According to HuffPost UK, hundreds of residents had to evacuate the 27-story, 120-apartment building after 1:15 a.m.
Muslims observing the holy month of Ramadan fast from dawn to sunset. Many Muslims stay up late, or throughout the night, to perform extra prayers and recite the Qu'ran. Some also wake up in the middle of the night to prepare their pre-fast meal called suhoor.
"If it wasn't for all these young Muslim boys helping us, coming from mosques, people would've [been] dead — a lot more people would've been dead," a woman said to a group of reporters, according to video footage from London-based journalist David Pittam. Watch the video below:
The woman went on to say that the spotlight is often put on Muslims when people who claim to share the same religion "do bad," in cases like the Manchester and London Bridge attack. She said that Muslims from all over London were the first ones to hand out water and provide support to victims of the fire.
Khalid Suleman Ahmed, 20, was among the Muslim men who woke up his neighbors and warned them of the fire. Ahmed is a new resident at Grenfell Tower, where he lives with his aunt on the eighth floor. Ahmed said isn't usually up in the middle of the night, but was awake to eat his pre-fast Ramadan meal.
"No fire alarms went off and there were no warning," Ahmed told HuffPost UK. "I was playing PlayStation waiting to eat suhuur (beginning of fast meal) then smelt smoke. I got up and looked out of my window and saw the seventh floor smoking."
He continued: "I would be up this late on a Friday night possibly but never a random midweek night unless it was Ramadan. There are a lot of Muslims living there and people choose up to stay up and wait so it was certainly a factor for me and others. It probably did save lives."
It wasn't just Ahmed and other Muslim neighbors that helped Grenfell Tower residents. Several mosques, Islamic centers and organizations offered support to those affected by the fire. The Al Manaar Muslim Cultural Heritage Center released a statement offering assistance, and sent volunteers to provide water, dates and other emergency supplies to the Grenfell Tower community. Suffa Global Aid, an East London-based Muslim charity organization, also came to Grenfell Tower to provide water, food and supplies to evacuees.