Alexandria shooting suspect wrote anti-GOP letters to editor of his local Illinois newspaper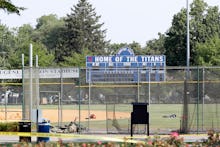 James T. Hodgkinson — the 66-year-old gunman who reportedly wounded Rep. Steve Scalise (R-La.) when he opened fire on Republican representatives practicing for the annual Congressional Baseball Game — wrote several letters railing against the GOP to the editor of the Belleville News-Democrat.
The News-Democrat, a daily newspaper in Hodgkinson's reported hometown of Belleville, Illinois, about 20 miles from St. Louis, published on Wednesday nine letters the alleged shooter wrote to the paper in 2012.
In the letters, written in the lead-up to the 2012 election, Hodgkinson criticized Republicans and tax policies he said favor wealthier Americans, praised now-former President Barack Obama and MSNBC host Rachel Maddow and, in one instance, called for marijuana legalization.
"Let's vote all Republicans out of Congress and get this country back on track," Hodgkinson wrote in one letter. "God bless the 99%," he wrote in another.
In an August 2012 letter, Hodgkinson appeared to be responding to another letter writer, whom Hodgkinson said reminded him of Rush Limbaugh and Bill O'Reilly — who "speak their lies and hatred and misdirection to anyone who will listen."
"I have never said 'life sucks,'" Hodgkinson wrote, "only the policies of the Republicans."
Hodgkinson, who died from his injuries Wednesday, also belonged to a number of anti-Republican Facebook groups, the News-Democrat reported.
According to the News-Democrat, Hodgkinson owned a home inspection business and lived in a two-story home on the outskirts of Belleville. A neighbor told the newspaper he was a "pretty hardcore" Democrat who was unhappy when Donald Trump was elected president.
Hodgkinson reportedly volunteered on Sen. Bernie Sanders' (I-Vt.) 2016 presidential campaign. In a statement, Sanders condemned the shooting, saying it ran "against our most deeply held American values."
"Violence of any kind is unacceptable in our society and I condemn this action in the strongest possible terms," Sanders said. "Real change can only come about through nonviolent action, and anything else runs against our most deeply held American values."