Tips that pay off: How to master the art of adulting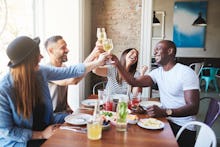 "Adulting" — or actions like managing your own money, paying your own bills and generally taking control of your life — has developed a bad rap for being the antithesis of fun. People on social media often use the hashtag to mock their own inability to function as a proper adult:
But if done right, #adulting can actually save you a ton of money and stress — which means more time for adult fun (just add wine).
Those who adult properly know a few basic rules: If you're setting up a savings account, you might as well do it with a bank that will pay you back the highest interest for holding your cash. Have to start paying for your own cell phone plan? It's all about getting the most data and the best service for the cheapest price.
Don't know where to start on any of the above (aside from tweeting something self-deprecating about #adulting)? Never fear. We did the research for you:
Remember that time you earned 4% interest on a savings account? Yeah, probably not. The good news is that account rates are finally on the rise at certain banks, even hitting 5% at some institutions. Rates aren't increasing across the board, however. Perhaps the most significant shift experts are seeing is that most interest hikes are at online banks rather than traditional banks.
With a myriad of checking and savings accounts on the market, which pay best without charging fees? Here are eight of the more generous bank accounts out there for earning interest, ranked from above-average to highest-yield.
Consumers aged 18 to 24 have drastically different needs from older customers, using up nearly twice as much data as those aged 55 and up — you know, for vital stuff like obsessively refreshing Instagram and keeping our Snapchat scores up.
That's made unlimited plans much more cost-competitive, especially if you love to stream video. Here are three millennial-friendly picks of the best plans out there, based on network quality, costs, hidden fees and speed. Whether you are single, shacked up or just really into Netflix, there's a plan out there for you.
Avoiding the doctor because you simply can't afford it? If so, you're not alone, as one in four Americans report they or a family member have skipped getting medical attention due to its cost, per a new survey by Bankrate.
As the future of U.S. health care hangs in the balance, what options are currently available that provide cost relief? There's no need to skip the doctor: Here are three affordable alternatives to help you get the medicine and health care appointments that you need.
No one enjoys being criticized. And if you've pretty much succeeded in everything you've set your mind to in life, you may never have developed the mental muscle to deal with negative feedback. But it's a crucial career skill to have.
So don't be afraid of a bad review. Instead, use the information to enhance skills, exceed expectations and earn a promotion — or at least a better performance review next time. Here's how to turn negative feedback into positive change in three simple steps.
There is so much to focus on when you're newly engaged. Which shot of your ring to Instagram? Is open bar the right choice considering your friends' love of impromptu karaoke? There's also the bigger pieces like actually planning a wedding and deciding which dreamy destination is right for a honeymoon. But it's also important to consider the practical aspects of combining your life with someone else's.
Finances are the leading cause of stress in a relationship, but on the flip side, married couples also build wealth more easily because of the economic benefits of teaming up. To make sure your marriage helps you become more financially secure, take these steps after getting engaged.
The House of Representatives voted 233-186 on Thursday afternoon to pass the Financial Choice Act of 2017, a bill that would undo many provisions of the 2010 Dodd-Frank Wall Street Reform and Consumer Protection Act.
Experts consulted by Mic warned that a Dodd-Frank repeal could do far more harm than good for the financial system, leaving Americans without several important consumer protections and policy makers without the tools needed to confront the next crisis.
Other provisions in Hensarling's bill could end up hitting Americans in the wallet. Here are three crucial ways the Dodd-Frank repeal bill could hurt yours.
STAY UPDATED
Sign up for the Payoff — your weekly crash course on how to live your best financial life. Additionally, for all your burning money questions, check out Mic's credit, savings, career, investing and health care hubs for more information — that pays off.