Bernie Sanders denounces Alexandria shooter who volunteered on his campaign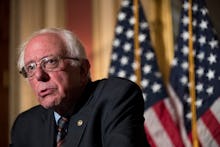 Sen. Bernie Sanders (I-Vt.) has condemned James T. Hodgkinson — the now-deceased man identified as the shooter of a member of Congress as well as U.S. Capitol Police officers and staff Wednesday morning — saying he's "sickened" by Hodgkinson's "despicable act."
Sanders spoke out because Hodgkinson had volunteered on Sanders' presidential campaign.
"Let me be as clear as I can be," Sanders said in the statement, which he plans to deliver on the Senate floor. "Violence of any kind is unacceptable in our society and I condemn this action in the strongest possible terms."
One of Hodgkinson's acquaintances told the Washington Post that Hodgkinson had volunteered on Sanders' campaign in Iowa.
Hodgkinson had belonged to anti-GOP groups, according to the Belleville News-Democrat, Hodgkinson's local Illinois newspaper.
A Facebook page that media reports have linked to Hodgkinson featured supportive images of Sanders, as well as anti-Donald Trump rhetoric.
Sanders, however, distanced himself from that rhetoric.
"Real change can only come about through nonviolent action," Sanders said. "And anything else runs against our most deeply held American values."