Alexandria Shooting: Paul Ryan and Nancy Pelosi strike bipartisan tone in House address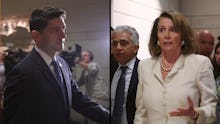 WASHINGTON, D.C. — House Speaker Paul Ryan (R-Wisc.) called for the House "to come together" as he delivered a statement that was followed by House Minority Leader Nancy Pelosi (D-Calif.) in the wake of Wednesday morning's shooting at a baseball field that left House Majority Whip Steve Scalise (R-La.) and four others injured.
"We are united in our shock, we are united in our anguish," Ryan said, his voice rising. "An attack on one of us is an attack on all of us." The House rose in applause.
"I identify myself with the remarks of the Speaker," Pelosi said after Ryan as the House stood, applauding the show of bipartisanship. "We are not one caucus or the other in this House today."
As he noted the "strong emotions" among members of the House, Ryan thanked the Capitol Police for preventing "many lives" from being lost. He said the two officers were in surgery on Wednesday afternoon.
The speech came less than an hour after President Donald Trump confirmed in a statement that the man identified as the shooter died of wounds inflicted by police officers. Two Capitol police officers and two House staff were also injured in the incident, which was the first such attack on a member of Congress since former Rep. Gabby Giffords (D-Ariz.) was shot in 2011. James T. Hodgkinson fired dozens of rounds at members of Congress and police as they played baseball around 7:15 a.m. Eastern Wednesday in Alexandria, Virginia.
Ryan and Pelosi have been locked in a bitter fight over health care and other marquee focuses of the Trump administration. The House has felt anything but "bipartisan" since the president's inauguration, with Democrats shouting at Republicans on the House floor as they passed the American Health Care Act last month.
"On a day when violence has come to this assembly, we ask your blessing on our brother, Rep. Steve Scalise, two officers and the staff who have been shot," the House chaplain said as he opened the session. "May Republicans and Democrats be mindful of the companionship they share."
Bipartisanship was on full display as Rep. Darrell Issa (R-Calif.) sat a seat apart from Rep. Maxine Waters (D-Calif.), two of the most partisan members of their respective parties, on the House floor as Ryan and Pelosi spoke.
The speaker made clear that the congressional baseball game — a long-standing matchup between Democrats and Republicans that raises money for charity — would still take place on Thursday. He added that Scalise will be missed from the game, but will be fine.
"Every time I pray, I pray for all of you," Pelosi said, adding she harbors a growing fear about politicians being targets of violence. "We are called for a purpose to this body. ... This is an occasion that brings us together, not divides us further."