This black-owned beauty brand is selling nail polishes for women of color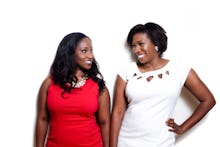 Harvard Business School grads and friends KJ Miller and Amanda E. Johnson are making good on their mission to launch a beauty brand that keeps women of color at the forefront.
In March, the duo's brand Mented debuted with a line of nude lipsticks specifically with women of color in mind. Now, they've launched a line of nude nail polishes, making them one of the very first brands ever to address the fact that many polishes out there billed as "nude" only match the skin tones of very pale women.
"We've all been there — you find a pale pink you think will be your perfect every-day shade, but it ends up looking too white or being too transparent and you're left with a streaky mess," Miller said in an interview. "It's also always been frustrating that a nude nail polish had to be pink — we came up with the idea of doing a soft (but pigmented!) pink, a warm tan and a gorgeous brown because we knew there'd be something for everyone, however you define 'nude.'"
The collection itself, launched Memorial Day weekend, is a set of three polishes, ranging from light pink to dark brown, priced at $8 each.
The fashion and beauty industry's recent progress towards considering women of color in their business models is something Johnson knows well. There has been progress in lingerie with Nubian Skin, Target and others, and high heels with Christian Louboutin, but nail polish hasn't gotten that much attention.
"I think women of color have patiently waited on the sideline hoping the beauty industry would eventually address their specific needs," Johnson said. "Although Black women outspend their Caucasian counterparts by up to 80% on beauty, the industry has continued to treat brown beauties everywhere as a trivial afterthought. At Mented we believe every woman deserves to find herself in the world of beauty. We will continue to have women of color as our focus and hopefully the beauty industry will catch on."
Mented hopes to expand further in the coming year, with their sights on lip gloss, blush and eye makeup in the future.