'God of War' PS4 E3 2017: Cover art revealed — Kratos goes full dad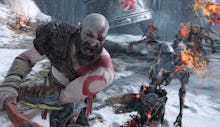 Everyone's favorite new dad-of-the-year simulator, God of War, isn't coming out until early 2018 — but it's finally starting to feel like a real game rather than some far-off fantasy.
If you're getting impatient, we have some tiny but important news that'll make God of War feel just a hair closer: Its director, Cory Barlog, just shared the cover art you can expect to see when the game finally releases.
It's nothing revolutionary by any means, but it certainly looks gorgeous. Sony still hasn't announced an official release date, but we'll keep you in the loop as we learn more.
More news from Sony PlayStation E3 2017
Check out more of our coverage from the PlayStation E3 2017 press conference, including the sweeping new Shadow of the Colossus remake, gameplay for Days Gone and a look at Monster Hunter Worlds. Don't miss the breathtaking cinematics from God of War 4 and Detroit, as well as the showstealing game: Spiderman.