Democratic members of Congress report receiving death threats after Alexandria shooting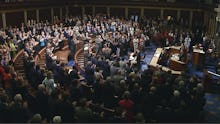 Impact
By
Emily Singer & Will Drabold
Multiple members of Congress reported receiving death threats Wednesday after a man opened fire on a team of Republicans practicing for the Congressional Baseball Game, leaving multiple people injured.
Rep. Claudia Tenney (R-N.Y.) told local reporter Nick Reisman that she received a threatening email after the shooting in Alexandria, Virginia.
"One down, 216 to go," the email's subject line read, according to Reisman's report.
Rep. Tim Ryan (D-Ohio) told Mic that other members received similar threats suggesting "Dems are next."
"We've not seen any in our office, but yeah, several [members of Congress] mentioned it today that," Ryan said. "We've got to take it down a notch, or two, or three. Cool it."
Rep. Nanette Barragán (D-Calif.) said House members discussed the threats at an all-House meeting after the shooting and noted that "toning down divisive rhetoric" is necessary, according to a report from BuzzFeed News' Ema O'Connor.
House Speaker Paul Ryan and House Minority Leader Nancy Pelosi both called for a culture of respect and bipartisanship in speeches on the House floor after the shooting.
"We are united in our shock, we are united in our anguish," Ryan said. "An attack on one of us is an attack on all of us."
Pelosi made similar comments.
"Every time I pray, I pray for all of you," Pelosi said, saying she often worries about politicians being targets of violence. "We are called for a purpose to this body. ... This is an occasion that brings us together, not divides us further."