Student loan relief scams: How to avoid getting tricked by sham debt forgiveness companies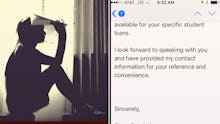 You thought you did everything right: got into a good college, netted that degree, and joined the working world. To put the cherry on top of your adulting sundae, you decided to streamline your student debt with some professional help — thinking that, for only a couple hundred bucks, a reputable company would get your loans consolidated, negotiated or even forgiven.
That sounds like a good investment, right? Unfortunately, if you're like Peace Corps member Karissa Bamba, it didn't work out that way, as she told Mic in a phone interview. After reaching out to her and convincing her to sign up, the official-sounding "Federal Student Loan Alliance" didn't help get her loans under control, as promised. What they did do was take her money: about $300 over two payments in 2008 and then 2012. By the time Bamba was able to convince the Better Business Bureau to investigate, she said, the company had closed — and her servicers kept calling for missing payments.
"It was my first scam and my last," Bamba said. "They promised me they were going to help me with lowering my student loan payments. They didn't do anything. After I gave them my information, they just started ignoring me."
Alas, Bamba's experience is not a fluke. In the years since President Barack Obama announced the Public Service Loan Forgiveness program — which forgives the remaining balance for public service workers after a decade of on-time payments — more than 100 companies have been caught advertising dubious services that purport to help people get their debt reduced or forgiven. In the best of cases, the companies collected high fees for preparing documents that customers could have filled out for free in 10 minutes.
These companies were revealed in a new database of misbehavior in the student debt relief industry, published in June by NerdWallet, which identified 131 company names attached to roughly 100 businesses; questionable firms often advertised under more than one brand. Each has either been the subject of enforcement actions or court judgments, has received either a D or F rating from the Better Business Bureau, or has been accused of illegal activities, like unpaid taxes and misleading advertisements.
How do these firms get away with it? As you can see in the below screenshot provided to Mic by Bamba, scammers often try to display authority regarding education policy — and may claim special knowledge about changes to the federal student loan program that victims may have heard about in the news.
Dishonest companies may also advertise over trusted media. In another case, New Hampshire-based social worker David Lynch says he first heard about "Broadsword Student Advantage" on the radio. Since he worked in public service and had a master's degree, he thought he'd be a likely candidate for the Public Service Loan Forgiveness Program, and reached out to the company for help consolidating his mix of public and private loans.
"They probably got about $300 out of me... [over] about three months," Lynch said. "They told me I could get all my loans consolidated... [for] $100 a month, and that they'd take care of the paperwork for everything."
Broadsword is no longer in business, in part thanks to a 2014 ruling from the Illinois Attorney General, but the firm's shutdown was too late to stop damage to Lynch's credit: Like other victims, he believed his loans were being taken care of, when they weren't. He said he fears his credit may never recover: "I'll never own a house or anything like that," Lynch said. "For the longest time I wasn't able to get a credit card." Even renting cars has been difficult, he said, and he believes the low credit scores have hurt his job prospects.
One problem with trying to combat student loan fraud at the national level? Because many scams are small in scope, the burden of regulating them has largely fallen on states, said NerdWallet's Brianna McGurran. "It's hard to say how many people have been affected," she said. "But the state of Washington collected more than $1.2 million in the last year. So extrapolate that."
Many of these companies frequently reinvent themselves — and are still in business today. Academic Debt Alliance, for example, says on its website that its "services are not available to Georgia residents" but doesn't explain why: In 2016 the state banned the company from doing business there for, among other activities, charging illegal upfront fees. In a statement emailed to Mic, the company said it was "a tiny business with seven employees," and was "not in a position to dispute these accusations."
"We function as borrower advocates. We inform clients of the federal programs available to them," a spokesperson for the company said in an email. "It's not any different than hiring an accountant to do your taxes, a lawyer to do your will, a personal shopper to buy your clothes, etc."
The personal shopper analogy is perhaps apt — at least in theory, services may save their clients time, similar to professional line-sitters — but lawyers and accountants provide expertise in addition to filling out your paperwork.
Lawyers must complete the bar to practice law in their state, in addition to completing an advanced degree. Perhaps most importantly, lawyers are required to act in their clients' best interest, known as being a fiduciary, or risk losing their license to practice. Certified public accountants must also sit for an exam, and are required in almost all states to complete at least 150 hours of course work, something that often requires post-graduate work or an advanced degree as well.
When pressed on Academic Alliance's processors' qualifications, the representative had the following response: "It is experience that paves the way. We only hire processors with college degrees and many years of experience in student loan consolidation document preparation."
Unfortunately, for victims seeking justice, by the time many operations gain the attention of regulators, they have gone by multiple names. One of the largest settlements identified by NerdWallet was $2.3 million from the Florida Attorney General against an executive who had at different points owned six separate business and three shell companies with names like "Back Office Law LLC" and "Non-Profit Guardian Services Inc." These companies were accused of charging illegal upfront fees, making false promises and writing fake social media reviews.
How to protect yourself from student debt relief scams
There are a few ways to spot scams. For one, anyone claiming they can forgive your loans should be immediately suspect, since student debt is notoriously difficult to discharge. You shouldn't ever be charged an upfront payment, since it's illegal for telemarketers or sellers to ask for debt negotiation fees — until after they have achieved tangible results for the borrower, like by providing a time-frame for when you can expect your settlement offer, for instance.
So where can you turn if you need help paying off your student loans? The Department of Education allows you to apply for income-based repayment directly, completely free of charge. This will cap your student loan payments at a certain percentage of your income — usually 10% of your discretionary income — although you will need to reapply each year.
For those feeling lost and helpless, another option might be to seek out debt counseling from a reputable nonprofit, McGurran said. "In that situation, [consumers] will pay between $50 and $200 for student loan assistance, but that will cover multiple sessions and they will receive individual help," she said. "So they're not getting a one-size-fits-all solution."
Finally, if you do indeed qualify for public loan forgiveness, your qualifying organization may also have resources to help you. Bamba eventually got her student loan payments under control, which were about $400 per month when she first connected with Federal Student Loan Alliance. "Now I'm doing the student loan forgiveness" through Peace Corps/AmeriCorps, she said. "So I only pay $17.95 a month. They helped me with the process."
That said, if you want to take the forgiveness route, you may want to hurry: The Department of Education recently announced that it is reviewing many of the Obama-era rules to protect borrowers, including the Public Service Loan Forgiveness Program. For more information on how to get legitimate help managing student loans, check out Mic's guide to paying off six-figure debt.
Sign up for the Payoff — your weekly crash course on how to live your best financial life. Additionally, for all your burning money questions, check out Mic's credit, savings, career, investing and health care hubs for more information — that pays off.