Former Congresswoman Gabby Giffords shares powerful statement after Alexandria shooting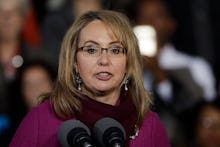 On Wednesday, a gunman opened fire at a Congressional Baseball Game practice in Alexandria, Virginia. House Majority Whip Steve Scalise was shot in the hip, and four others were wounded in the attack.
Before Scalise, the last member of Congress to be attacked by a shooter was former Arizona Democratic Representative Gabby Giffords, who was shot in the head by an assailant in 2011. On Wednesday, she responded to the latest violence with words of resilience and solidarity.
"It doesn't matter if you're a Democrat or a Republican, nor if you're a senator or a representative, nor a staffer or a sworn officer," Giffords said in a statement.
"If you serve the institution of Congress, you're connected to your colleagues, current and former, by a shared sense of service to ideals far greater than yourself. ... This shooting is an attack on all who serve and on all who participate in our democracy."
Giffords survived the 2011 attack, which left six dead, but she was severely wounded. The right side of her body is "largely paralyzed," the Associated Press reported in 2016, and she was left with a language disorder. She has remained active, however, and has become a vocal champion of gun safety.
She and husband Mark Kelly founded Americans for Responsible Solutions, an advocacy organization and political action committee that lobbies for gun reform.
In her statement on Wednesday, Giffords said that she was "heartbroken" for Scalise and the other victims, adding that she was "thankful for the great courage of the Capitol Police, who were my protectors after I was shot and became my friends."
"May all Americans come together today with prayers for the survivors, love for their friends and family, and the courage to go about every day making this country its best," Giffords said. "Our nation is resilient, and we always come back stronger."