Reports: San Francisco shooting near UPS facility leaves several people injured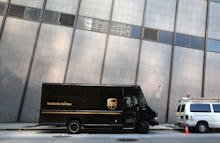 Three people are dead and a gunman is down after a Wednesday shooting incident outside of a UPS facility in San Francisco, California, the Associated Press reports.
On Wednesday, the San Francisco Police Department issued a warning on Twitter for pedestrians to avoid the area near "17th & Vermont."
"#SFPD is at the scene of a shooting that occurred near 17th & Vermont. Please avoid the area, expect street closures and traffic delays #SF," the tweet read.
In another tweet, police also asked city residents to seek shelter in place until the incident was resolved.
According to the AP, multiple people were being treated for injuries sustained during the incident by fire fighters and first responders.
One 30-year-old man who lived nearby the facility told the AP that he had witnessed a handful of UPS workers fleeing the building and shooting, and about 10 others clustered on a rooftop requesting police assistance.
In a statement on Wednesday, UPS confirmed that a shooting involving four company employees had occurred, and that an investigation is ongoing.
"We understand that there are potentially multiple deaths, although some individuals were transported to the hospital and we are unsure of their status at this time," the statement reads.
"The company is saddened and deeply concerned about affected employees, family members and the community we share. Our thoughts and prayers are with all those touched by this incident."
This story is breaking and will be updated.