Father's Day 2017: 5 gifts to make dad's life better, happier, easier and less stressful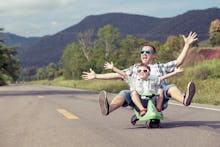 Is your father or partner a busy guy? Work-life balance is a big challenge for both moms and dads, but as many as 48% of working fathers surveyed in a recent Pew report say they don't have enough time to spend with their kids — compared with only 25% of working moms.
This Father's Day, instead of getting Dad an item that will just sit on the shelf, how about focusing on gifts that will help him find better balance in his life?
The five gift ideas below can make dad's life easier at home and on-the-job — so he can have more stress-free time for fun stuff, like hanging out with the people he loves. (Bonus: If you are celebrating your mom or a different family member or friend on Father's Day, these presents will work for them, too!)
1. A phone that won't die
Fathers on the go who are busy trying to fulfill work and family obligations may not always remember to plug in their phones. That's why portable chargers and charging phone cases are a great gift.
If dad is a whimsical soul, consider a fun portable charger, like this Star Wars-themed power bank. Or if he's more serious or practical, a simple-but-powerful charging case won't be hard to find, given "a handful of new devices slimming things down while still charging you up," as Wired has reported.
There are several skinny options for the iPhone 7 rated highly this year by Digital Trends, ranging from $16 to $100 and proven to help you keep your battery above 20%. Plus it is easy to find similarly-priced, ultra-thin and classy-looking options for Galaxy phones, and other Android devices. If Dad can stay connected for longer, that can make a big difference in being able to keep in touch with work and family, no matter where he is.
2. Sweet, sweet robots
The future has arrived, and there is no shortage of robots or robotic devices that are designed to make life easier — and are affordable to buy. There's this (Mic-tested and approved) foot massager, for the dad who spends a lot of time on his feet; likewise, a robotic back massager will give the father in your life some much-deserved pampering.
For dads who are always buried under outdoor chores, you could buy a robot lawn mower or garden weeder. Is the dad in your life is a grilling fan? Yes, grilling is fun — but cleaning the grill: not so much.
With an automatic grill-cleaning robot, dad can spend more time hanging out during and after the family barbecue and less time scrubbing grill grates. "The Grillbot is a cool-looking gadget equipped with a CPU, three electric motors, three brass wire brushes and a rechargeable battery," PC Mag wrote. "It's very easy to use and does a good job of cleaning the cooking grate's surface."
3. Cool wearable tech
There are endless options for fitness trackers and smartwatches, so you should be able to find one that matches Dad's style. Smartwatches and most fitness trackers allow Dad to easily stay connected to important work phone calls and emails even when he's away from his desk for fun family activities. They can also remind Dad to get up and get some exercise instead of sitting at his desk all day.
Not sure which watch or tracker to pick? According to CNET: "Long battery life and stylish design combined with improving app software make the Alta HR the best all-around fitness tracker for most people."
4. A solution for absent-mindedness
Busy dads juggling work and family may find themselves picking up a lot of bad absent-minded habits, such as losing their keys or phone. Tracking devices like Tile or BiKN can be attached to any easily misplaced objects so Dad can easily find them via a Smartphone app.
"If you're constantly losing your keys or want to track your luggage while traveling, Tile is a must," Refinery 29 explained. Whether Dad uses it to keep track of his luggage during business trips or to find his wallet when he's trying to gather up all the necessities to take the kids to the park, dads who get this gift will waste a lot less time looking for their stuff.
5. Relaxing light schemes
Connected lighting is both useful and entertaining, and there's an endless array of options for controlling light bulbs via smartphones, setting up different lighting scenes and controlling whole groups of lights at once.
From setting lights to dim at a specific time when the workday is done, to turning off all the lights without getting out of bed, lighting control has lots of ways to make Dad's life easier. The Philips Hue is a top option for getting started with light control, and "for those who just want smart lights that'll work, no other system can come close to Hue," the Verge reported.
If you're not ready to go all-out and get full lighting control, something as simple as a light-up alarm clock could be a great gift. "A light-up alarm completely changed my life, and I think it can change yours, too," a wake-up light user wrote for Gizmodo.
You might try the Philips Wake-Up Light or Rise & Shine Wake-Up and Color-Changing Light, both of which are considered top picks by Health. "It's a natural, positive thing to wake up with light in the morning and then have it disappear in the evening," Chris Winter, MD, a Virginia-based neurologist and sleep expert, told Health. Dad will feel more awake and have an easier time throughout the day.
Sign up for The Payoff — your weekly crash course on how to live your best financial life. Additionally, for all your burning money questions, check out Mic's credit, savings, career, investing and health care hubs for more information — that pays off.