Danica Roem is the first out trans woman to win Virginia's General Assembly primaries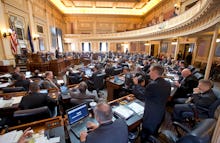 Danica Roem could become the first out transgender legislator in Virginia's House of Delegates, and the third out trans legislator in the country — she just has to beat Republican incumbent Bob Marshall.
Roem clinched the nomination for the Virginia Democratic Party on Tuesday, winning a challenging primary.
She said she plans on winning the general election by pushing her platform of LGBTQ rights, better-paying jobs and improvements to Route 28 — a perpetually congested road in her district crucial to her constituents' daily commutes.
"He spent more time on where I go to the bathroom than on fixing Route 28," she told the Intercept regarding Marshall, nodding to the bill her opponent introduced in January restricting which bathrooms trans and gender-nonconforming people are allowed to use.
Though similar to North Carolina's infamous bathroom bill, Marshall's would require Virginia residents to use the bathroom corresponding to the sex they were assigned at birth. That means a trans person who had their gender changed on their birth certificate still wouldn't be allowed to use the bathroom corresponding to their gender identity.
Roem doesn't have any clever strategies for defeating her anti-LGBTQ-rights opponent — she simply plans on being better than him.
The former journalist said her years as a reporter make her a good listener, attentive to her constituents' needs and adept at researching policy issues. Aside from these strengths, she plans on doing some good old-fashioned canvassing in her district to connect with voters.
She told the Intercept she and her team, which managed to make it to 8,000 homes ahead of the primaries, plan to knock on 20,000 more doors over the next four months.
"I know how to beat Bob Marshall, because I already beat him in the General Assembly," she said. "Don't let anyone tell you a transgender person can't win, because we just did."